Healthcare company pushes into rural areas in China
Share - WeChat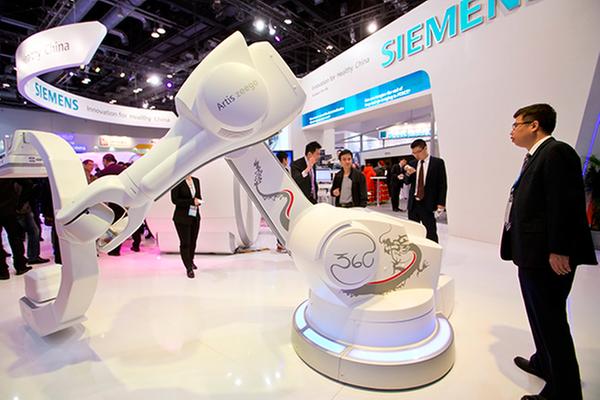 A man examines Siemens' healthcare facilities at an industry expo in Beijing. [Photo/China Daily]
Siemens Healthineers has targeted county-level and rural markets in a bid to boost its business in China.
The German medical equipment and technology company hopes to post double-digit growth fueled by increased demand in its services.
George Chan, president of Siemens Healthineers Greater China, outlined plans to increase sales staff, step up training and roll out products to meet specific demands in county-level and rural hospitals.
The healthcare firm is connected to the global industrial juggernaut, Siemens AG, and became a "company within a company" in 2015.
Already there has been talk that it could be spun off and listed.
"Obviously, more details on an initial public offering would be publicized if a decision was made," Chan said.
Total revenue for Siemens Healthineers for the 2016 fiscal year was 13.5 billion euros ($15.22 billion), with an operating profit of 2.3 billion euros.
China played a key role in the company's profit margin.
"Despite the fierce competition, we finished the fiscal year with double-digit growth of new orders, outperforming major key players," Chan said, without disclosing detailed financial figures.
Multinational medical equipment and technology companies are facing a fast changing environment here.
Chinese providers have moved into the sector, making the industry even more competitive.
Hospital regulators in more than 20 provinces in China have also helped shorten distribution chains and reduce costs of medical equipment and medicines by bringing in new rules.
"Siemens Healthineers has applauded these changes that encourage more transparency and compliance," Chan said.