Travelers invited to rent private homes in latest trend
Share - WeChat Staying in private homes while traveling is gaining popularity among Chinese, both for domestic trips and travel abroad, according to tourism industry insiders.
A report released on Thursday by the China Tourism Academy and Airbnb, an international house-sharing service, said 45 percent of people surveyed reported trying homestays when traveling abroad, while almost 60 percent of those who had not used such services said they wouldn't mind trying them on future trips.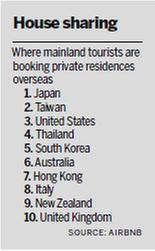 More than 1,500 people in five Chinese cities - Beijing, Shanghai, Guangzhou, Chengdu and Xi'an - participated in the online survey.
A report released by the State Information Center in February noted a similar trend. It found the market size for house-sharing in China reached 24.3 billion yuan ($3.6 billion) last year. In 2012 it was 140 million yuan.
Chen Chi, founder and CEO of Xiaozhu, a Chinese online marketplace that helps travelers and homeowners connect for vacation home rentals, said house-sharing has evolved from a negligible market into a big one in recent years in China.
"Both demand and supply will increase in the future, and consumers' experiences will also improve as the market gradually grows mature," he said.
Dai Bin, director of the China Tourism Academy, said the development of peer-to-peer accommodation has benefited from innovation in internet technology, the rise of a new generation of consumers and the evolution of consumption concepts in China.
"The sharing economy, also known as collaborative consumption, has been well-received nationwide. People can see different forms of the economic pattern: shared bicycles, shared portable chargers and so on. Shared accommodation is another one," he said.
Data from Airbnb showed that most users in China were millennials - born between 1984 and 2000. The average age of the sharing homeowners was 32, while that of the guests was 30. Millennials account for 32 percent of China's population.
"They are the driving force behind the sharing economy, including peer-to-peer accommodations," Dai said.
But there are some details, especially with regard to the user experience, that should get some attention to ensure further development, said Lin Quan, vice-president of Tujia, an online homestay booking platform in China.
How the house-sharing industry deals with these details, such as the balance between the demands of tourists, homeowners and online operators, will determine how the industry develops, he said.