Apple unveils smart music speaker
Share - WeChat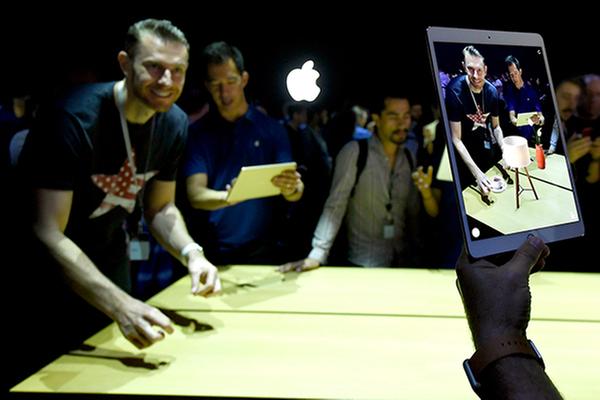 Visitors try Apple Inc's iPad Pro at the annual Worldwide Developers Conference in San Jose, near Apple's headquarters in Cupertino, California, June 5, 2017. [Photo/China Daily]
SAN FRANCISCO-Apple Inc introduced a music speaker on Monday, its first new hardware since the Apple Watch was rolled out two years ago, at an annual gathering of software developers.
To be "smart", the latest product in Apple's portfolio, known as HomePod, comes with an A8 microprocessor chip, the same power engine in the technology company's flagship iPhone smartphone and iPad tablet computer.
Available on the market in December, the compact wireless speaker has some identical functions offered by similar products made by other companies, such as Amazon Echo and Google Home, but promises to produce higher quality sound.
Voice-activated with Apple's natural language user interface Siri, it will have access to Apple Music, a music-streaming service.
Although HomePod seems to be a more expensive competitor of Echo, which was released by Amazon.com Inc two years ago, Apple Chief Executive Officer Tim Cook opened the Worldwide Developers Conference, with an announcement that Prime Video, a video-streaming service operated by Amazon, will be integrated into Apple TV, a digital media player and microconsole.
At the event in San Jose, not far from Apple's headquarters in Cupertino, Cook said his company now has 16 million registered software developers worldwide for its consumer electronics and 3 million of them were added last year.
A parade of executives followed Cook onto the stage and unveiled a series of updates to Apple's hardware, software and mobile apps.
Apple said its App Store has paid out $70 billion to developers, of which 30 percent was made last year.
Potentially indicative of what Apple will come up with in its next smartphone, expected to come out later this year on the 10th anniversary of its initial rollout of iPhone, is its plan to release an augmented reality kit to developers to encourage the creation of AR apps to work with the new device.