Paris accord okay without US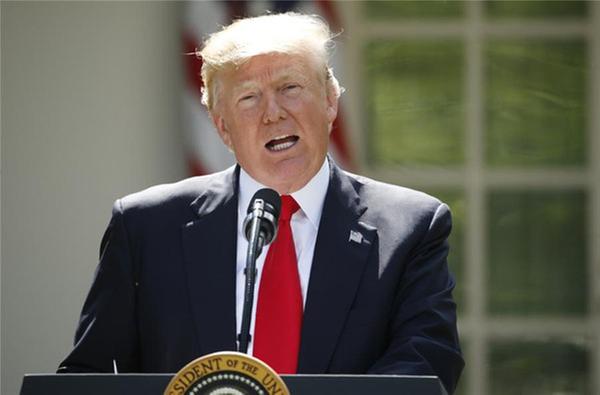 US President Donald Trump announces his decision that the United States will withdraw from the landmark Paris Climate Agreement, in the Rose Garden of the White House in Washington, U.S., June 1. [Photo/Agencies]
US President Donald Trump's recent announcement that he would withdraw the United States from the Paris climate change agreement will not reverse the global emissions reduction campaign.
Although Trump claimed implementation of the Paris accord would undermine the US' interests by compromising US businesses, labor, employment and the interests of US people and taxpayers, such an argument is not persuasive. For example, 80 percent of thermal power generation in the US is now based on natural gas or shale gas, and its coal mines nationwide only employ 160,000 workers, compared with the 374,000 jobs newly created by solar power alone.
As a matter of fact, the real motive for the Trump administration pulling the US out of the Paris agreement is that the US, as the world's largest developed country, does not want to offer technological and funding assistance to less-developed countries for their carbon emissions reduction efforts. As a global action program for emissions reduction, the Paris agreement is built on the consensus that the accumulated global greenhouse gases are largely due to the past extensive industrialization of developed Western countries and their luxury lifestyles, and thus developed countries must offer technological and funding support to the countries still in the initial stages of industrialization. However, in the 25 years since the United Nations Framework Convention on Climate Change was signed in 1990 to the reaching of the Paris accord, although Western countries have made three formal commitments to offer less-developed countries such support, they have never fulfilled those commitments.
Withdrawing from the Paris agreement means the US is refusing to undertake its international responsibilities for global emissions reduction, which will undermine the US' international image and also offer the opportunity for other responsible actors to undertake more responsibilities in this area.
Most Viewed in 24 Hours
China Views