Need clarity on what is illegal gambling
Share - WeChat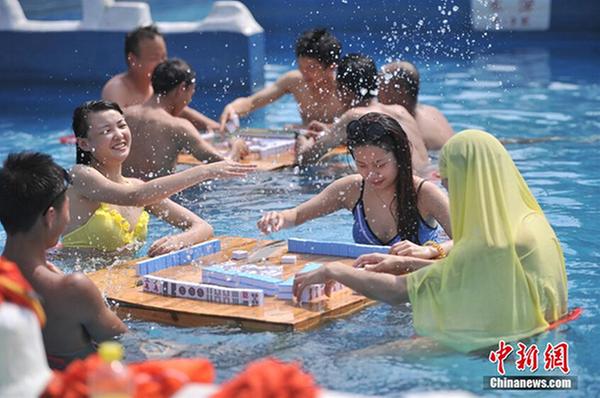 Splashing water may become a new mahjong strategy as it distract competitors -- some Chongqing residents play mahjong at a water park to have fun while cooling off, July 8, 2014.[Photo/Chinanews]
When does playing mahjong become gambling? Police in Wuhan, Hubei province, have an answer.
Wuhan police say relatives playing mahjong, no matter how high the stakes are, does not qualify as gambling. Similarly, if fewer than 10 people not related to each other play mahjong and if the average individual stake is less than 1,000 yuan ($145), it cannot be deemed gambling. Other than these, all other mahjong games will be considered gambling and the players will be duly punished.
Police officers dealing with gambling cases always cause controversy, because many people think they use weird rules to differentiate between recreation and gambling when it comes to playing mahjong.
In their judicial interpretation of the Criminal Law, the Supreme People's Court and Supreme People's Procuratorate have laid emphasis on the relationship among the participants and the amount of stakes, which means gambling is not necessarily a criminal act on the Chinese mainland. The Wuhan police's explanation is based on this interpretation.
But gamblers and those people running gambling rackets could be imprisoned for up to three years. Most of the gamblers caught by police, however, are fined up to 3,000 yuan each and detained for 10 to 15 days.
Some form of gambling, be they bets between individuals or organized lotteries, exists in every society. That is why many countries have not banned gambling activities in general, and only prohibited commercial gambling.
On the other hand, some countries regard commercial gambling as a special industry that needs special administrative approvals and has to pay special taxes. But even these countries know people's gambling activities have to be regulated and the gambling industry supervised in a way that it can contribute to economic growth.
The Chinese government is not against gambling as long as it is for public benefit. For example, it allows the lottery industry to operate, in a bid to raise public welfare funds. So the law enforcement agencies need to emphasize that commercial gambling will be considered illegal if it is solely aimed at making profits, and if playing games or laying bets are not profit-oriented, the law enforcers will not intervene.
The question then is, how to tell the difference between commercial and non-commercial gambling, and when can commercial gambling be deemed illegal.
First, the law enforcers should determine whether the purpose of gambling is only to make money. If yes, it is illegal.
Second, if a large number of people gather to gamble and their common purpose is to just make money, their activity should be deemed illegal.
Third, if people make gambling and betting a means of livelihood, their behavior should be regarded as illegal.
And fourth, if those organizing an activity intentionally create an environment for many people to lay bets in any form, their act should be considered illegal.
So long as a gambling activity's aim is solely to make money, the law enforcement agencies and judicial authorities should not consider how much stake was involved to deem it illegal. In other words, the law enforcement agencies and judicial authorities can save a lot of time and energy if they focus on the purpose of gambling activities.
And playing mahjong or any other game with friends and/or relatives for recreation should not be considered illegal.
The author is a professor of law at Wuhan-based Zhongnan University of Economics and Law.
Most Viewed in 24 Hours
China Views