Sinopec uses Initiative to reshape petroleum sector
Share - WeChat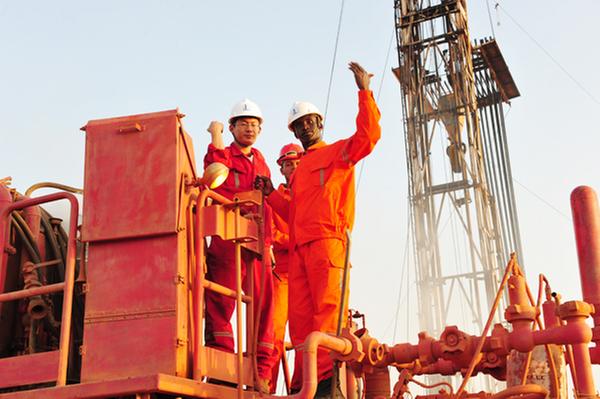 African and Chinese engineers at work at Sinopec's drilling site in Sudan. TONG JIANG / FOR CHINA DAILY
Investments of $100b in last five years make SOE popular among B&R economies
China Petroleum & Chemical Corp, also known as Sinopec, the world's largest refiner, believes that by deepening cooperation with countries and regions taking part in the Belt and Road Initiative, it can reshape the petroleum and petrochemical industry.
Toward that end, it has already invested around $100 billion in the past five years, in fields such as oil and gas exploration, development of oilfields, petroleum exploitation, refining, engineering, crude oil trade, equipment, materials and petrochemicals.
This has made it the go-to enterprise for many economies seeking solutions and expertise in the petroleum industry and related fields.
According to Wang Yupu, chairman of Sinopec, many economies covered by the twin 21st century trade prospects have abundant petroleum and gas resources. They also see massive demand for related hardware and services, including refining, investments, technology and equipment. Sinopec is eminently placed to meet all of that demand, he said.
"Economies taking part in the Initiative have two-thirds of the global oil and gas reserves, half of global oil and gas output," he said.
"With institutions such as the Asian Infrastructure Investment Bank and the Silk Road Fund backing Chinese enterprises' expansion, Sinopec has established cooperation with over 30 Belt and Road countries."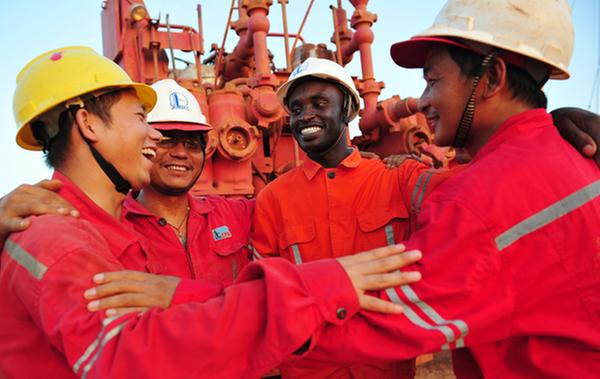 Camaraderie marks relations between African and Chinese workers at Sinopec's drilling site in Sudan. TONG JIANG / FOR CHINA DAILY
Sinopec has conducted oil and gas exploration and development with 11 B&R countries since 2001, involving itself in 18 projects located in Russia, Kazakhstan, Indonesia, Myanmar, Iran, Syria, Saudi Arabia, Yemen, Egypt and Mongolia.
With an investment of more than $20.31 billion, the company had acquired more than 98.31 million metric tons of equity oil by the end of 2016.
The company has provided petroleum engineering services to more than 20 B&R countries, including well-drilling and logging, geophysical prospecting and land surface construction. It has signed 745 engineering technical service contracts worth $10.98 billion in the past five years.
In the field of petroleum refining, 72 new business contracts were signed with 10 countries, including Iran, Saudi Arabia, Kazakhstan, the United Arab Emirates, India, Malaysia and Thailand, since 2011, with a total contract value of $9.53 billion, it said.
Figures from the company reveal that Sinopec has imported the following in the past five years: over 1.1 billion tons of crude oil from 15 cooperating countries; petrochemicals valued at $10.2 billion from 18 countries; and equipment and materials worth $91.6 million.
It has also invested in six refinery storage projects in five countries along the routes with an estimated total investment amount of $5.2 billion.