Computers remain undefeated on chess board for 20 years
Share - WeChat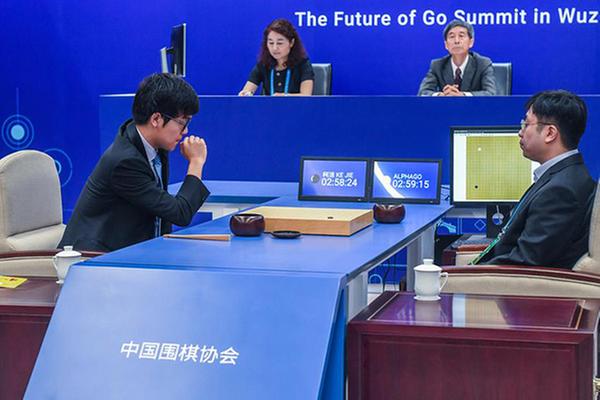 Ke Jie (left) plays against Google's AlfphaGo in Wuzhen, East China's Zhejiang province, on May 23, 2017. [Photo/VCG]

Google's artificial intelligence program AlphaGo is competing against China's best Go player at the Future of Go Summit in Wuzhen, Zhejiang province. The event started on Tuesday.
KeJie, 19, who in 2016 became the youngest champion in Go history to win three world titles in one year, has already lost the first game in a best of three contest against the machine.
Despite the impressive records in the human player' career, fans of the ancient Chinese game still have every reason to be pessimistic about the match. After all, computers have defeated their human opponents on chess board matches over the past two decades.
Below is a review for some of the most fascinating human-computer matches during the past 20 years: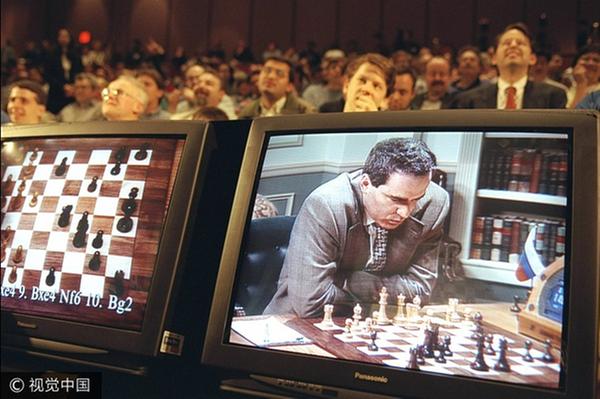 Garry Kasparov, a former world chess champion, ponders his next move during a match against the Deep Blue at the IBM Chess Challenge in New York, New York, on May 10, 1997. [Photo/VCG]
IBM Deep Blue vs Garry Kasparov (May 1997)
The match between IBM Deep Blue and Garry Kasparov, a former world chess champion, has become one of the most famous human versus computer sessions. The computer, developed by IBM specifically for playing chess, managed to beat the then world champion in a series of six games in New York.
It was the first time a computer managed to beat a reigning world chess champion under tournament conditions.
During the match, Kasparov managed to take the win in the first game, but lost the second and drew the next three. The match was even after five games; however, Kasparov became defeated in game six.
Deep Junior vs Garry Kasparov (January 2003)
In January 2003, Kasparov engaged in a six-game classical time control match, with a $1 million prize fund. The event was billed as the FIDE Man vs Machine World Championship,and Kasparov played against Deep Junior.
The engine of Deep Juniorwas able to evaluate three million positions per second, and after one win each and three draws, it was all up to the final game. The end match was televised on ESPN2 and watched by up to 300 million people. Then, after reaching a decent position, Kasparov offered a draw, which was soon accepted by the Deep Junior team.