People's happiness Xi's goal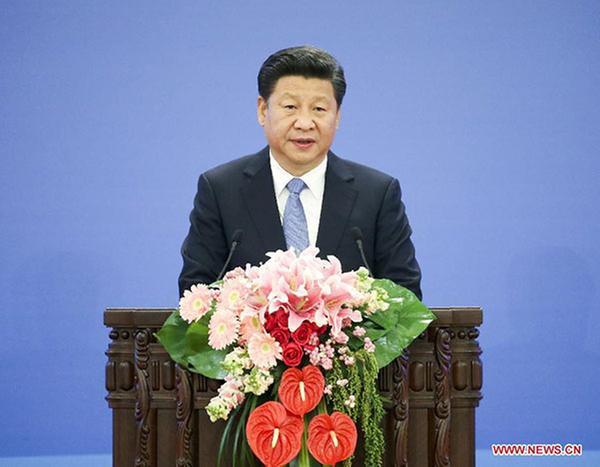 Chinese President Xi Jinping addresses the 2015 Global Poverty Reduction and Development Forum in Beijing, capital of China, Oct 16, 2015. [Photo/Xinhua]
"People's happiness is always the goal of our endeavors", Xi Jinping said in late 2012 when he made his debut as the Party's top leader to the media together with other members of the Standing Committee of the Political Bureau of the 18th Communist Party of China Central Committee.
Since then, China under the leadership of the CPC Central Committee with Xi as general secretary has lifted more than 55.64 million people out of poverty, equivalent to the population of a big European country. In the next three years, 43.35 million more people are expected to be raised out of poverty thanks to tailor-made poverty alleviation measures.
When the CPC announced that it would "not let any person be left out in the national poverty alleviation campaign", it was not only stating its goal, but also its commitment and determination to stay true to its goal.
Xi has always attached great importance to poverty relief work in China. During a tour of an impoverished county in Hebei province shortly after he was elected Party chief, Xi pointed out that the most arduous task for the all-out efforts to build a well-off society is in rural areas, impoverished areas in particular, stressing that without well-off rural areas, China's target of building a well-off society would remain unfulfilled.
Xi's dedication to poverty eradication in rural areas is attributed to his decades-long poverty relief experiences as he worked his way up from the grassroots level. This has also forged Xi's sense of responsibility and resolve to lead China to build an all-round well-off society and realize the great rejuvenation of the Chinese nation.
Lifting all impoverished rural residents out of poverty by 2020 will not be easy, but China's rich experiences in poverty alleviation and its latest targeted efforts will help bring this ambitious goal to fruition.
--PEOPLE'S DAILY OVERSEAS EDITION
Most Viewed in 24 Hours
China Views