Chongli wants to outgrow its reputation as a winter playground
Share - WeChat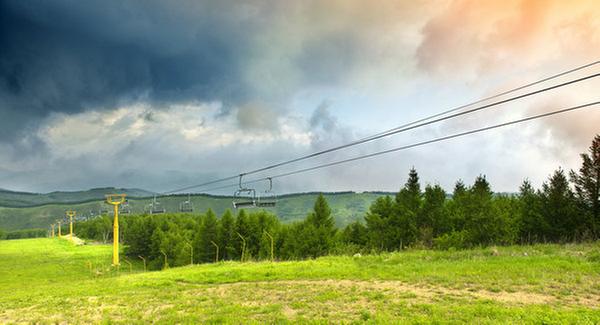 Chongli, a winter resort and the host site of the 2022 Winter Olympics in Hebei province, is building itself to become an all-weather destination. [Photo provided to China Daily]
A winter resort is trying to be a year-round getaway for visitors. Situated in Hebei province's Chongli area, the Fulong Four Seasons Town was a hit with winter vacationers after it opened in December.
More than 150,000 tourists visited the area, says Fan Xiaogang, assistant president of Fulong Holdings, the builder of the town.
The goal of the town is to offer a break for people of Beijing, Tianjin and Hebei, says Fan.
The town was built as Chongli will host the 2022 Winter Olympics, and the local government has put in a lot of effort to develop ski and leisure facilities in the area.
Chongli received 2.77 million visitors from home and abroad last year, and tourism income was 1.96 billion yuan ($284 million).
Easier transportation will also help.
The Beijing-Zhangjiakou high-speed rail under construction will shorten the commute to roughly 50 minutes from more than three hours, says Fan.
The town, when complete, will cover an area of 12 square kilometers and integrate shopping, catering and leisure facilities.
As for the future, the town wants to become an all-weather destination.
The plan is to enable visitors to enjoy blossoms in spring, rock climbing in autumn, avoid the heat in summer and ski in winter, says Fan.
The town will ultimately feature a hotel cluster, a 750,000-sq-m urban ski field, a 26,000-sq-m commercial district, a 100,000-sq-m blossom field, and a 48,000-sq-m hot springs center.
In addition, sports and entertainment facilities for grown-ups and children, and a rehabilitation center for the elderly will all be available.
The Fulong ski resort now has a 70,000-sq-m ski park, a 25,000-sq-m snow entertainment facility and a 30,000-sq-m training center for children.
It also offers a night ski experience, and a shopping mall is also at hand.
The music town in the area features 20 classic European-style structures, all surrounding a lake. A DJ square will be available from November.
Art festivals will be staged in the area, including summer music festivals, to ensure themed activities for visitors, says Fan.
A mountaintop cafe will go into operation at the end of July, and a hot spring hotel will be up by November.
However, sport events will remain key elements in the snow town, and snow golf and marathons will be held to attract tourists.
In a related development, international schools are to be opened in the area. "We want to offer children an environment to get in touch with nature through the mountains and outdoor activities," says Fan.
As for foreign interest, the town is making progress.
Austria is showing interest in showcasing its mountain resort expertise.
"Austria has had winter tourism for hundreds of years, and ski tourism for 100 years," says Martin Glatz, the commercial counselor in the Austrian embassy's commercial section.
Professional ski instructors and experts in designing ski tracks could be sent to the town.
"We're ready to share that experience," he says.
In addition, Austrian ski service providers and brands could also be introduced in the future.