A core task for the Party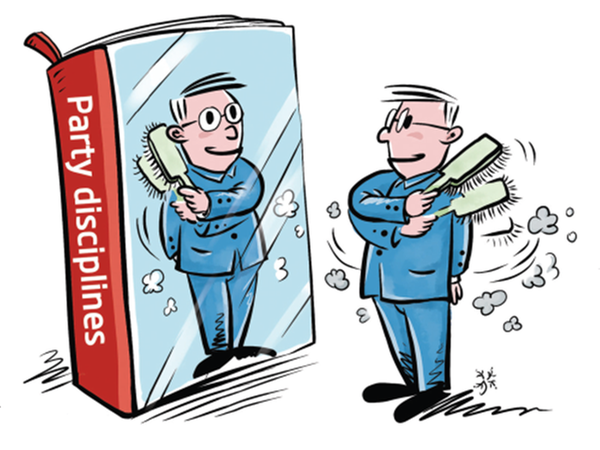 MA XUEJING/CHINA DAILY
The Communist Party of China Central Committee, with General Secretary Xi Jinping as the core, is making every effort possible to tighten Party discipline. It is because something has gone wrong with the Party's political culture and that the political ecology of the Party needs to be improved to promote clean politics, a clean government and honest officials.
Only after greater efforts are made to purify the Party's political culture can a good intra-Party political ecology be established that makes it hard for corruption to take place.
Thus overall and unrelenting governance of the Party in a stricter manner is necessary to consolidate the foundations for good governance.
A good political culture, especially the right political values and ethics, can help officials form an intrinsic force and act as a firewall against any tendencies toward corruption. To promote stricter self-governance, the Party's political culture should hone its members' ideals, beliefs, values, personal integrity and ethics, and promote their cohesion, creativity and fighting capability. Strengthening its political culture is a core task for the Party.
To achieve this, the Party should first smash the vulgar and decadent political culture that exists and eradicate the deep-rooted elements behind its long-standing malaises. Without doing this, the foundations for such a decadent ideology will not be shaken and an advanced and purified political culture will be difficult to develop among the tens of millions of Party members.
As the ruling party of a nation with a population of more than 1.3 billion, the CPC must resolutely pursue a pure political culture that upholds the correct values and ethics if it wants to lead Chinese people to realize their Chinese Dream. Only in this way, can the Party create fertile soil for a good political ecology to take root.
--PEOPLE'S DAILY
Most Viewed in 24 Hours
China Views