Property price rise slows in big cities
Share - WeChat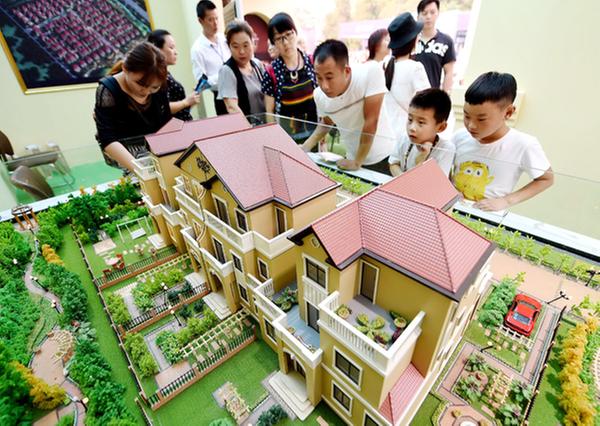 Visitors check out a property project at a housing fair in Luoyang, Henan province. PROVIDED TO CHINA DAILY
Home price rises in 15 first- and second-tier cities eased in April as city-specific measures against realty speculation continued to bite, amid stricter restrictions and tighter lending, according to data released on Thursday by the National Bureau of Statistics.
Among 70 cities tracked by the NBS, new home and preowned home prices in 30 cities saw slowing growth year-on-year, and 31 cities had slower new home price rises month-on-month.
"New home price growth in second-tier cities was 0.1 percent lower than that of March," said Liu Jianwei, a senior statistician.
"On average, new home prices in second-tier cities have been declining for five consecutive months."
The latest figures showed average housing prices in Beijing rose just 0.2 percent month-on-month, the smallest increase since the beginning of the year, and in Shanghai, prices dropped 0.1 percent.
Guangzhou reported 1.4 percent growth month-on-month while Shenzhen prices remained the same as in March.
"Lending is the critical factor influencing the short-term trend of home prices," said Zhang Dawei, chief analyst with Centaline Property.
A source with close knowledge of Shanghai's banking sector said that more than 10 lenders in the city had "significantly tightened" home loans since the beginning of the year, and some branches issued no lending at all to home loan applicants.
"Tightening lending measures may vary from bank to bank, but it is a widely observed trend that home loan applicants, particularly those who are buying their second homes, are waiting much longer than before, as lenders scrutinize their credit situation more closely and the approval procedure takes longer," the source said.
Analysts said tighter lending has obviously affected transaction volumes for residential properties in Shanghai, particularly in the preowned home market.
In April, about 15,500 preowned home transactions were completed, down 20.4 percent on the previous month, according to research by real estate agency and services provider Homelink.
More than 120 banks increased their lending rates in 35 cities since March, according to a research note from Centaline Property.
"It would be risky for developer to buy land with a high premium and for homebuyers speculating in these lower-tier cities," said a research note by CRI China.