Methane trapped in sea ice recovered
Share - WeChat China has became the first country to produce methane gas trapped in icelike crystals beneath the South China Sea, the Ministry of Land and Resources said on Thursday.
The test drilling and production operation conducted in the region this month by China International Marine Containers Group and China National Petroleum Corp lays a solid foundation for commercial use of the resource-known as marine natural gas hydrate-before 2030, said Li Jinfa, deputy director of China Geological Survey, which is under the ministry.
The tests will give China a continuous and stable supply of hydrate gas from the waters of the Shenhu area in the northern part of South China Sea, the ministry said.
The test production has reached a steady output, by Wednesday having yielded 113,200 cubic meters of natural gas over the previous seven days, with average daily production of just over 16,000 cubic meters, said Ye Jianliang, commanding officer of the gas hydrate production field.
Although the drilling is difficult in technical terms, the effort is worth it, Li said, since the hydrate has huge commercial value potential.
"We have been keeping a close eye on its commercial value, and after the test-drilling, we are even more confident in its commercial prospects."
For the next step, two to three more drilling tests will be conducted in nearby regions so that more experience and data can be accumulated, Li said.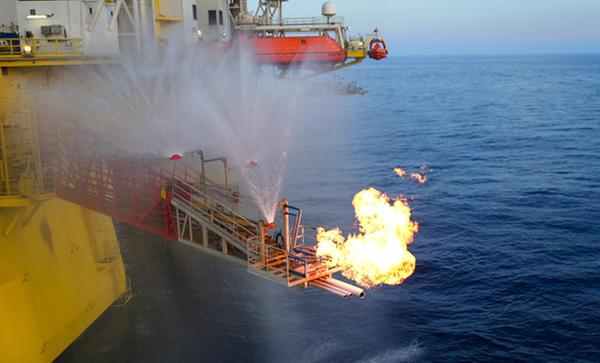 A drilling platform is extracting methane gas trapped in icelike crystals in the seabed of the South China Sea. Tests are being done for future commercial use. PHOTO PROVIDED BY CHINA GEOLOGICAL SURVEY
In China, the hydrate has been widely detected in permafrost in areas like the Qinghai-Tibet Plateau, as well as under the South China and East China seas.
"The production of gas hydrate will play a significant role in upgrading China's energy mixture and securing its energy security," Minister of Land and Resources Jiang Daming said on Thursday.
Natural gas hydrate consists of methane locked in water crystals that also are called flammable ice. It is an enormous untapped energy source formed under high pressure and low temperatures in permafrost or under the sea. It is regarded as a clean energy option with high energy density and huge amounts of reserves. It releases less than half the amount of carbon dioxide when burned as do oil and coal, ministry officials said.
Zhong Ziran, director of China Geological Survey, said the test-drilling will help facilitate China's deep-sea exploration capability.
Blue Whale 1, the ultra-deep-water semisubmersible drilling rig built by the largest semisubmersible platform manufacturer, China Yantai CIMC Raffles Offshore Ltd, is conducting the tests in the South China Sea.
"Blue Whale 1 is the world's most advanced ocean drilling platform design," said Mai Boliang, president of CIMC. "It is important practice for CIMC to further enhance the country's high-end energy exploration equipment."
Zhong Nan contributed to this story.