Third Apricot Flower and Butterfly Festival kicks off
Share - WeChat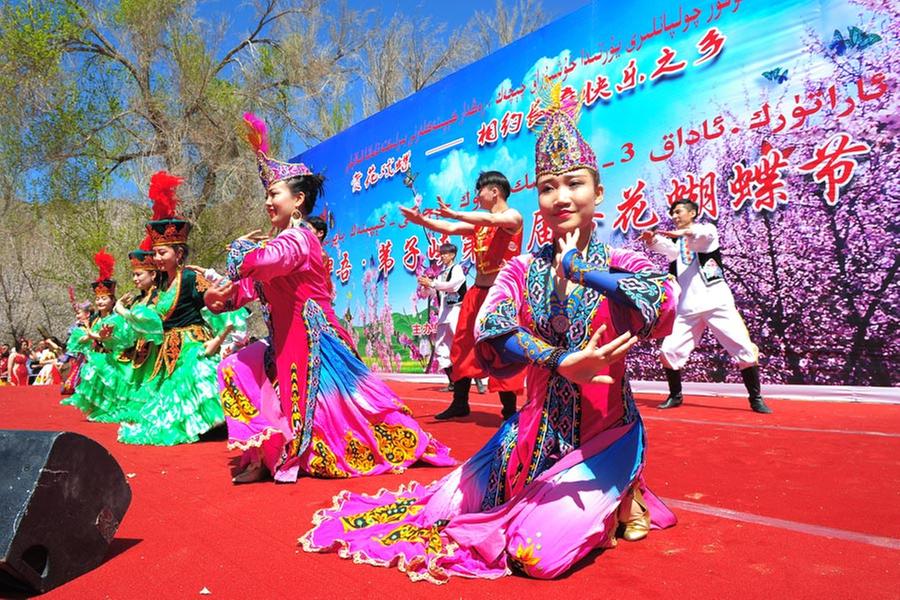 Locals perform traditional dances to welcome tourists from both at home and abroad. [Photo provided to chinadaily.com.cn]
A renowned Chinese poet, named Bai Juyi, once wrote "While all the flowery scents fade in most places during April, peach blossoms in the mountain temple start to bloom." He made this comment in his masterpiece, Peach Blossoms in DaLin Temple, during the Tang Dynasty (618-907).
To a majority of the tourists in China, February and March is the golden period to take the ones they love on a romantic date, as the weather generally clears moving into Spring. In China's Xinjiang Uygur autonomous region, however, the golden period is pushed back until April.
To celebrate this period, the third Apricot Flower and Butterfly Festival kicked-off on April 22, 2017, attracting hundreds of thousands of tourists to the Yiwu county of Hami prefecture.
The festival was constructed, and divided, into seven different parts, featuring a range of diverse activities: including flower scenery appreciation, a photography competition, prayer activities, food specialty taste-testing, and a range of sport games.
"When you come here, you will not only be absorbed by the amazing spring scenery, but involve yourself in the interesting folk culture and traditional customs," one tourist, attending the Apricot Flower and Butterfly Festival, said.
"In recent years, flower scenery can be seen everywhere, but it is not common to appreciate a sea of flowers decorated with swarms of butterflies," another tourist said.
"If you want to see this, you should come here."
In addition, the 2017 festival also paid more attention to the interaction with, and interests of, tourists. Visitors were able to enjoy the traditional wedding performance of the Uygur ethnic group, and attended quiz shows to get awards and involve themselves in kite flying contests.
Moreover, with the opening of the Beijing-Ürümqi Expressway, the Yiwu government has accelerated the pace of developing local tourism. By utilizing the region's rich natural resources, the government will set out to give impetus to local tourism through the integration of economic industries with the tourism sector. According to the latest statistics from the local government, the third Apricot Flower and Butterfly Festival generated more than 70,000 yuan ($10,155).