Bike share firms peddle for profit
Share - WeChat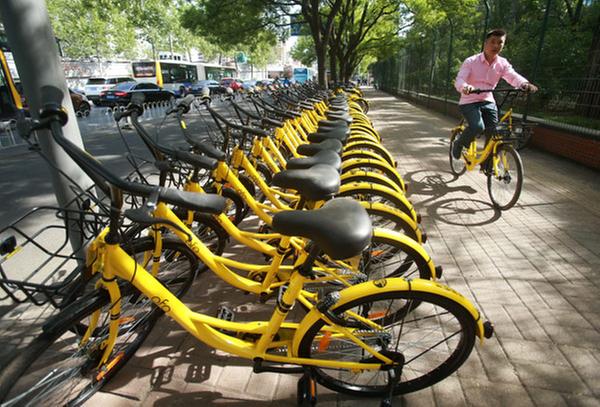 Ofo bikes along Beijing's East Third Ring Road. CHEN XIAOGEN / FOR CHINA DAILY
Fight by startups to be unicorn of emerging sector proving costly
Painting their bikes in highly conspicuous hues of yellow, orange or blue, China's 30-odd bike-sharing startups sport a parade of colorful branding and are striving to return the nation to its place of honor as the "kingdom of bicycles".
While bike-sharing is no rarity elsewhere in the world, the Chinese version gives wheels to the concept, with customers able to find a free bike anywhere in the city closest to you (located via GPS on an app) and leave them when they are finished in their journeys.
The concept is all the rage among students and young professionals across the nation for being convenient, green and cheap. An average 30-minute ride costs 0.5 yuan (7 cents).
But the fight to become the unicorn of the burgeoning sector has proven to be a rather costly one.
In the latest development, ofo, a leading player featuring iconic yellow bike offerings, was officially added to the line-up of Didi Chuxing, the nation's dominant riding hailing app.
Didi, which drove rival Uber out of the country after years of cash burning, has folded ofo's bike-sharing functions into its "hugely popular app with 400 million users", according to a company statement.
When Didi users want to revert to bicycles as a means of transportation, ofo's service is displayed as an option on Didi's platform, which is already laden with everything from buses and taxis to chauffeur services.
Aside from app integration, Didi said it will tap into ofo's data allowing it to design "more efficient bike-bus transfer options" on its shuttle bus service.
"Didi will involve ofo into its own algorithmic model via artificial intelligence techniques and provide real-time travel options to users," said Neil Wang, China president at consultancy Frost & Sullivan.
This marks a direct counter-punch to ofo's chief competitor Mobike, which in early April got linked into WeChat, the ubiquitous messaging-to-payment app owned by internet giant Tencent Holdings Ltd, taking the bike-sharing craze to new heights.
The tie-up allows Mobike to be at the immediate disposal of 889 million WeChat users starting a video chat, to browse news and conduct payment via the app. A Mobike icon is placed on the top of an array of e-wallet offerings, which also include Didi's services and ticket booking.
Ofo and Mobike, which are rekindling Chinese people's interest in a traditionally preferred mode of transport, are the latest darling of the capital market.
Following $450 million in Series D funding by a consortium including Didi, the cash-rich smart bike company announced a week earlier fresh strategic investment from Ant Financial Services Group, the nation's top e-payment provider.
Meanwhile, Mobike has attracted more than $300 million in investment so far this year from a list of prominent names including Temasek, Hillhouse Capital, and Tencent.
The landscape is getting red-hot as players compete to be the number one choice for bike riders. By working with Sesame Credit, a credit-rating system developed by Ant Financial, ofo waived a 99 yuan deposit fee for users in Shanghai whose Sesame Credit reached 650.
To fend off competition, rival Mobike is giving deep subsidies through random cash incentives to retain users.
Compared with the enormous input companies need to purchase huge fleets of bikes and make them accessible for rent through an app, the seemingly utopian model has already been subject to skepticism over its ability to turn a profit.
The business model followed by so many bicycle-sharing companies just doesn't appear (yet) to have any competitive advantage, according to Jeffrey Towson, a management professor at Peking University and a private equity investor.
"It doesn't create a superior service like taxi ride-sharing (more drivers means shorter waiting times). It doesn't create a much lower cost structure per unit," he said.
As bikes get fancier and more expensive, it would still take about a year to recoup the production expenses of a bike, not to mention maintenance, theft and vandalism, he added.
"While the market may well consolidate, there is no reason yet to think the business itself will generate any type of exceptional profitability," he said.
But the sector still encourages investors to plow in money and resources because of the huge traffic such apps bring in, said Lu Zhenwang, chief executive officer of Shanghai-based Wanqing Consultancy.
"The area is destined to be a fierce battlefield for internet giants as they strengthen online-to-offline deployment and race to become the prioritized cashless payment tool," he said.
Wang from Frost agreed, saying that the most direct support from Didi is the huge customer base and traffic it owns, which will stimulate the explosion of users as well as daily orders for ofo.
"The WeChat-Mobike linkup has proved that such strategic cooperation does boost the number of active users significantly. In the future, this is not simple investment in money, but in resource sharing in the long run," he said.