Cinco de Mayo fun at home in China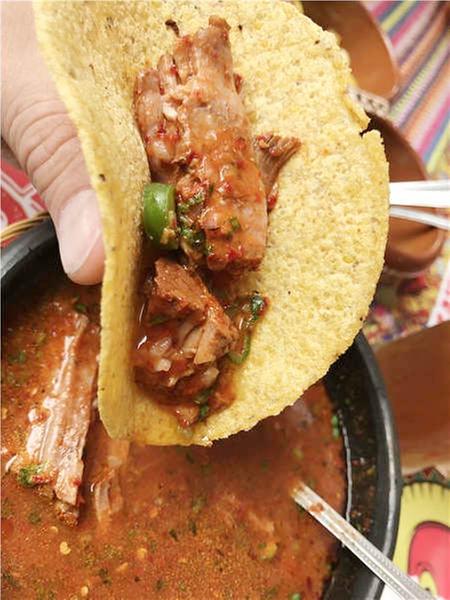 Meaty tacos are enjoyed in corn tortillas at Dongguan's Al Chile, while Beijing's Tex-Mex eatery Lucky Lopez wraps tacos in fresh flour tortillas.
"At first, Chinese people had a hard time understanding our tacos," says Chow, who first opened the cafe in 2010 in another location. "They like hot foods with hot foods, so piling fresh cold lettuce and tomato on top of hot grilled meat seemed weird and even unhealthy to them."
The menu's array of Tex-Mex favorites also includes burritos, chorizo, salads and bowls that can be built with your choice of ingredients, including guacamole and salsa. The carefully crafted small tamales are soft and succulent. The basic salsa is dominated by fresh tomato and not too spicy; a chipotle sauce on the side allows you to raise the level of chili-kick.
Mexican-food fans in South China will find plenty of festivities this weekend at Al Chile, a small restaurant in Dongguan near Guangzhou. Chef Cristian Salazar serves up traditional pastor, nachos and chorizo as well as homemade tortillas and Mexican sauces.
Tucked in a corner of the pedestrian street, the restaurant offers the flavors of Salazar's native Monterey in a cozy environment of colorful Mexican wrestling masks and lively Colombian music.
An intriguing cocktail menu includes a refreshing mojito, a Moorish mango margarita, a strong traditional Margarita and what Dongguan HubHao declares to be "an extremely delicious Blueberry Caipiroska".
If you go
Lucky Lopez
Sanlitun Nan Jie 34 Yuan, Chaoyang district, Beijing. 010-6466-0302 and 010-6466-0320.
Al Chile
Yonghuating pedestrian street), A20, Dongguan, Guangdong province. 15015220963.