High-speed trains plan to improve meal choices
Share - WeChat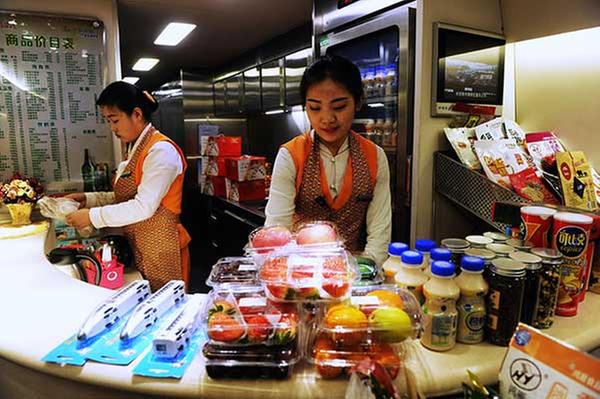 Workers sort out food and beverage products on a high-speed train from Qingdao to Chongqing in January.[Photo by Yu Fangping / For China Daily]
China Railway Corp said that it will introduce more food suppliers and offer passengers more meal options on high-speed trains, after recent media reports bashed the overpriced boxed lunches provided on bullet trains.
The operator of the country's high-speed railway system said in a statement released on Tuesday night that it will build a "fair and open" online platform accessible to qualified suppliers, with a view toward letting passengers order meals directly.
The suppliers do not need to be companies subordinate to the 18 local railway bureaus, according to the statement, which did not give a timetable.
A spokesman for the company who was approached by China Daily on Wednesday declined to share more details about its plan to make the catering service more market-oriented.
The measure was announced after recent media reports criticized lunches sold on bullet trains as being too expensive, often between 40 yuan ($5.80) and 65 yuan ($9.45).
The cheapest meal, at 15 yuan, is also available, but train attendants often try to sell meals priced above 40 yuan when they push their trolleys through carriages at dinner time.
"They usually try to sell the expensive ones first. They won't sell the cheap ones until the expensive ones are sold out. They never tell you they have 15-yuan meals until you ask," said Gu Xin, a public servant from Shenzhen who takes bullet trains several times a year.
The Xi'an-based Chinese Business View reported earlier this week that attendants' income is tied to the boxed lunches they sell to passengers, which is why they seldom recommend the cheaper ones.
Most Popular