Sina set to enter world of online lending
Share - WeChat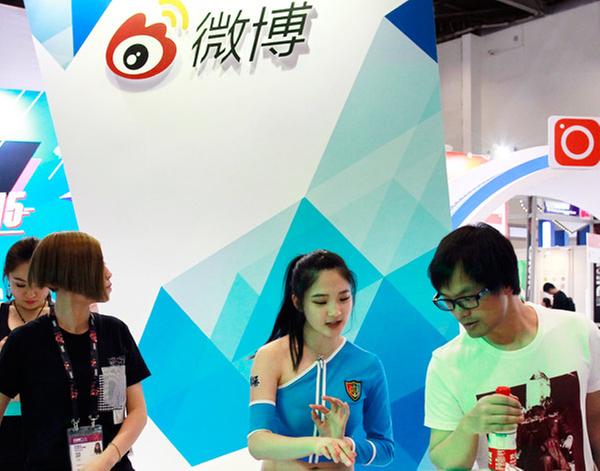 Visitors gather at a Sina Corp stand at an internet expo held in Beijing. [Photo by Zhu Xingxin/China Daily]
Sina Corp, the company behind what's commonly known as China's Twitter, is preparing to compete with the country's web giants in online lending as the mobile market starts to slow.
Sina, which controls online messaging service Weibo Corp, plans to create a separate company dedicated to providing internet finance across its services, Chairman Charles Chao said in an interview with Bloomberg Television.
In doing so, it will be opening a new battlefront with larger rivals Tencent Holdings Ltd and Alibaba Group Holding Ltd. Despite being late to the burgeoning industry, Chao told investors in November that Sina's standing and customer information would help it move quickly once it got the required licenses.
Chao's company has enjoyed accelerating revenue growth in the past 12 months, thanks largely to the rapid take-up of Weibo in rural areas. But that's been tied to rising smartphone sales, which are beginning to slow.
The company is now shunting for new sources of income and has identified online lending-a highly competitive and increasingly regulated arena. Sina said it can make use of data covering hundreds of millions of users that read its news, exchange messages on Weibo and access its websites.
"This is a long shot. We need patience in this area," Chao said at an industry conference in the Central China city of Zhengzhou. "We do have a big dollar-amount investment in this area," he said without elaborating.
Chinese regulators have begun to clamp down on internet financing and peer-to-peer lending after some of the scores of nascent online loan outfits that have sprung up in past years fell under suspicion of perpetuating Ponzi schemes. Chao, a former PricewaterhouseCoopers auditor, said he welcomed government intervention as it would help normalize a saturated market. In an encouraging sign, Sina Pay-which its users employ to pay for services onlineis already gaining traction, he said.
China has leapfrogged ahead to become the global center of financial technology innovation and adoption, outpacing the likes of New York, London and Singapore by a wide margin, according to a joint report by consultancy Ernst& Young and DBS Bank in 2016.
While the speed, sophistication, and scale of development of China's fintech ecosystem have been at a level unmatched in more established markets, the willingness of Chinese consumers to adopt fintech services is just as striking, the study said.
For instance, 40 percent of consumers in China are using new payment methods compared to 4 percent in Singapore, said the agencies. Around 35 percent are using fintech to access insurance products compared to 1-2 percent in many Southeast Asian markets.
Chao said Sina's edge is its detailed knowledge of users. Weibo is commonly used to post everything from videos to text messages and 313 million people access it at least once a month-on par with Twitter. Once combined with information from other sources, that data could be used to better evaluate loan risks.
But as Alipay and WeChat Pay become the duopoly in the area-they had a combined share of more than 80 percent of the third-party payment market in China by 2016, according to IT consultancy Analysys-things are getting tougher for Sina, said Li Chao, a fintech expert at Beijing-based iResearch Consultancy Group.
"It's doubtful whether the stickiness of Weibo users-who normally spend less time on Weibo than on WeChat-is able to help build an accurate and reliable risk control model crucial for online lending," said Li.
BLOOMBERG-CHINA DAILY