Macao ready to host awards for hotel pros
Share - WeChat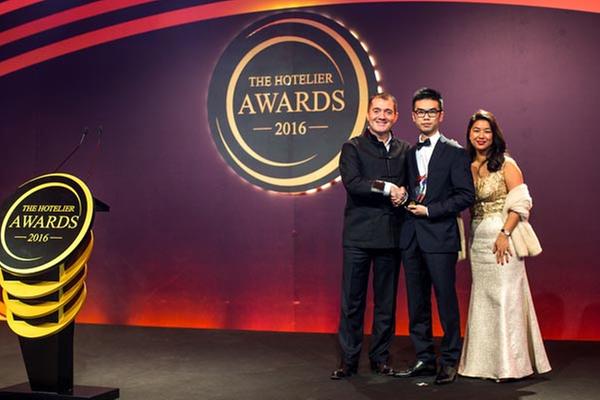 Chef Kenneth Law receives the award for best hotelier chef at last year's awards ceremony in Macao.
The 2017 Hotelier Awards will open for applications on April 24, a process that culminates with a black-tie gala to honor professionals in every category of hotel service. For the second consecutive year, the awards ceremony and dinner will be held in Macao, at a hotel venue yet to be announced.
The annual honors event began in 2014. Besides awards for general managers, chefs, food-and-beverage managers, the competition includes categories for sales, marketing, finance and IT professionals in the hospitality industry.
At the glittering gala last year at Macao's brand-new Parisian, the hotelier chef of the year was Kenneth Law, executive chef at Studio City in Macao, where he oversees the production kitchens for one of the largest culinary operations in Asia. An award-winning chef and qualified Hazard Analysis and Critical Control Points auditor, Law impressed judges with his combination of culinary skills and his deep knowledge of operational planning and execution. The Studio City property serves over 10,000 meals a day.
Law and his colleague chef Calvin Soh teamed up last year with the Chinese Medicine Association of Macao to create a list of herbal soups that will change by season, providing guests with revitalizing options to address imbalances in the body.
Another dining-related winner in 2016 was Ksenia Novikova, assistant director of food and beverage at The Ritz-Carlton, Beijing.
The general manager of the year award for Greater China went to Torsten van Dullemen, the GM of The Landmark Mandarin Oriental, Hong Kong. Frank Reichenbach, GM of Marco Polo Ortigas Manila, claimed the top award for ASEAN countries.
In the 2017 competition, hotels in other parts of Asia will also be included.
Most Popular