Wanxiang finds success in US
Share - WeChat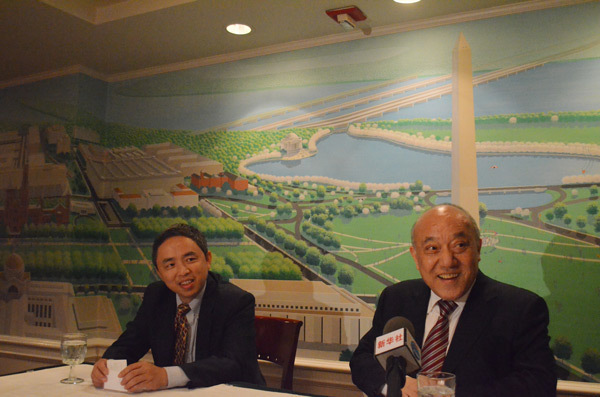 Lu Guanqiu (right), chairman of Wanxiang Group, and Ni Pin, president of Wanxiang America, meet with media on July 25 in Washington. Liu Chang / China Daily
If companies operating in China want to expand to the United States successfully, there may not be a better example than the Wanxiang Group Corporation, the largest China-based automotive components company by revenue.
Wanxiang America's achievement has been associated with the US government's support and encouragement. Invited by Vice-President Joe Biden to visit several cities in the US from July 20-25, including Detroit,Dover and Washington, to explore investment opportunities, the company's Chairman Lu Guanqiu is proud that Wanxiang Group has contributed to the economies of both China and the US.
"One out of three made-in-US cars uses auto parts that are produced by Wanxiang America," said Daniel Li, project manager of Wanxiang America, at a press conference held in Washington on July 25.
The company has 28 manufacturing operations in the US, of which 26 are in the auto-parts sector. Li said approximately 50 percent of the company's revenue comes from auto-parts sales.
Based in Hangzhou, Zhejiang province, Wanxiang Group's Chicago-based subsidiary, Wanxiang America, won a bankruptcy auction for the assets of lithium-ion battery developer A123 System for $256.6 million in 2013. Last February, the unit bought the assets of Fisker Automotive, a manufacturer of plug-in hybrid sports cars, for $149.2 million.
Pin Ni, president of Wanxiang Group, said for any company that wants to invest in a foreign country or even a new environment, the issue is not about money, instead "it is about whether they feel comfortable." He compared it to a situation in which a person enters a dark room and "what the person cares about is who will turn on a light for him."
After Wanxiang's acquisition, Fisker's bottom line has been transformed to zero losses. Ni said after Wanxiang America restarted production at Fisker, the most important task was to solve past problems that had plagued the company's cars.
"We made an estimate that there are 284 problems with Fisker cars. It is fine if Wanxiang doesn't make cars. But Wanxiang will never make a bad car. So in order to make those cars run again, we have to make sure there is no single glitch," Ni said.
Wanxiang's success can be traced at least in part to Lu. Born into a farmer family, he dropped out of school at 15 to become an ironsmith.
In 1969 Lu and several other farmers founded a factory to make agricultural machines. Today Lu is considered one of the richest people in Zhejiang province.
Lu has told the media that he didn't want to achieve big things. "Because I am not that smart, I engage myself to small things," he said.
As to his company's success in the US market, Lu said: "Don't be complicated in life, be simple and learn to trust others."
changliu@chinadailyusa.com
Today's Top News
Editor's picks
Most Viewed