Farewell held for Xu
Share - WeChat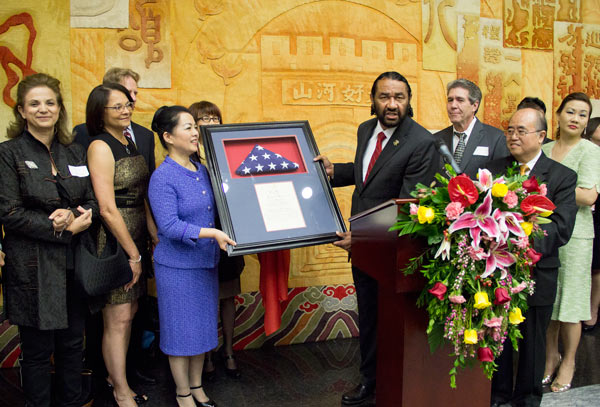 Congressman Al Green (fourth from right) along with members of his China visit delegation presents a US flag as a parting gift to Consul General in Houston Xu Erwen. May Zhou / China Daily
VIPs and Houston community leaders attended last Friday night's farewell reception hosted by China's Consul General Xu Erwen in Houston. Xu, who came to Houston in August 2011, is leaving her post shortly.
US Congress members Al Green and Sheila Jackson Lee personally made appearances to say goodbye, and Neil Bush brought a letter from his father and former President George H. W. Bush.
Others in attendance included Texas State Representatives Gene Wu and Mary Ann Perez, Houston city council member Jack Christie, chairman of Woodland Township Bruce Tough, Texas Governor Rick Perry's representative James Chen, Asia Society Texas Center chairman Charles Foster, CEO and president of the Greater Houston Partnership Robert Harvey and many others.
In her farewell remarks, Xu recounted the fruits of the bilateral relations between China and the eight southern states in her jurisdiction: 137 Chinese enterprises have invested there with a total investment of $13.2 billion; the number of Confucius Institutes has increased to 22; and there have been more cultural exchange activities such as Focus on China in north Texas.
Xu said she will cherish the friendships she had cultivated in the US and expressed her gratitude to all who had helped her during her tenure in Houston.
Neil Bush called himself the number two fan in Xu Erwen's fan club, and read a letter from "your number one fan, my father and former president".
In his letter, former President Bush said that "the most important bilateral relationship in the world right now is between my country and your country", and he praised Xu's diligent efforts in improving this relationship, saying that "your enthusiasm, your spirit and your smiles will be greatly missed" and wishing Xu "a successful and happy career".
Congressman Al Green, just back from a visit to China, praised Xu for helping to make his trip a great success. "I want you know that when I mentioned her name at each stop, all the high officials knew who she was and all gave her high marks on what she has achieved," Green said, presenting a flag that had flown over Washington, DC to Xu as a parting gift.
Houston council member Jack Christie presented a certificate of goodwill ambassador and honorary citizenship of Houston to Xu on behalf of the city, an honor "shared by Yao Ming", he said.
Today's Top News
Editor's picks
Most Viewed