BEIJING: Following several reports of melamine-tainted milk products resurfacing, Chinese vice premier Li Keqiang on Tuesday vowed a new nationwide campaign in 2010 to ensure food safety.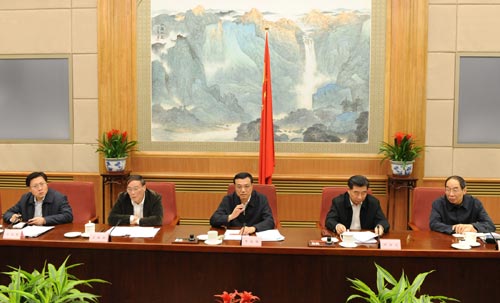 Chinese Vice Premier Li Keqiang (C) attends the first plenary session of the food safety commission in Beijing, capital of China, Feb. 9, 2010. [Xinhua] 
"Food is essential, and safety should be a top priority for food. Food safety is closely related to people's life and health and economic development and social harmony," Li said at the first plenary meeting of the recently-established food safety commission under the State Council.
Related readings:


 Tainted milk passed safety test


 More tainted milk found in latest crackdown


 3 arrested in crackdown on tainted milk products


 Thousands of children compensated over tainted milk


 Tainted milk case 'cover-up' for a year
According to Li, this year's campaign will focus on the prominent issues of food additives, edible farm products, food production processing, food circulation and import and export, livestock slaughter, the catering industry and health supplements industry, among others.
"We should understand the foundation for the country's food safety is still weak and the situation is grave," Li said. "We should fully realize that it is a pressing issue to ensure food safety."
Media reports said melamine-tainted dairy products have resurfaced in several Chinese provinces, proof that the toxic milk powder recalled in 2008 was not destroyed and has been used.
Melamine is an industrial compound which can give a false positive on protein tests and cause kidney stones. Melamine-contaminated milk products killed at least six children in 2008 and sickened 300,000.
Li stressed responsibility of food producers and vendors while calling on various government departments to strengthen supervision and guidance of these companies.
He urged improvement in food safety standards and the food system production check-ups, risk evaluation, accident prevention and emergency response.
Li vowed to "thoroughly" investigate the latest milk scandal, destroy all tainted products and severely punish those responsible.
Two managers from a dairy company and a milk powder dealer in northwestern Shaanxi province were arrested on charges of manufacturing and selling food that does not meet hygiene standards, local police said earlier this month.
Li urged the strengthening of law enforcement by increasing the frequency of inspection and expanding the supervision to clear up potential troubles and ensure people spend a happy and peaceful Lunar New Year, which falls on Feb 14 this year.