TOKYO - Japan will send nearly 25,000 soldiers, backed by boats and aircraft, into its disaster zone on Monday on an intensive land-and-sea mission to recover the bodies of those killed by last month's earthquake and tsunami, the military said.
Agriculture officials also plan to send a team of veterinarians into the evacuation zone around a stricken nuclear plant to check on hundreds of thousands of abandoned cows, pigs and chickens, many of which are believed to have died of starvation and neglect. The government is considering killing some of the dying animals, officials said.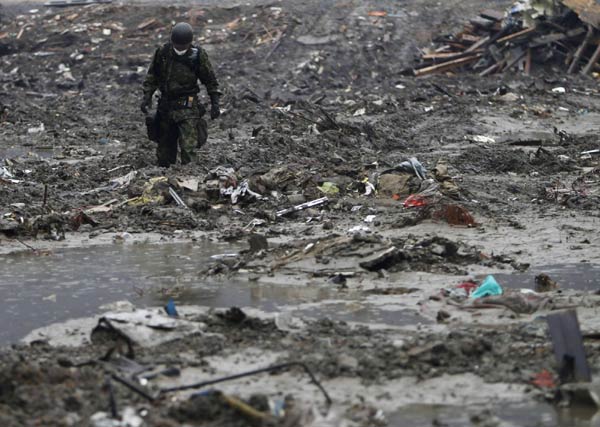 A member of the Japan Self-Defense Force searches for victims at an area devastated by the March 11 earthquake and tsunami, in Minamisanriku town, Miyagi prefecture, April 23, 2011. [Photo/Agencies]
About 14,300 people have been confirmed dead so far in the catastrophic March 11 tsunami and earthquake. Another 12,000 remain missing and are presumed dead. Some of the bodies were probably swept out to sea, while others were buried under the mass of rubble.
Cleanup crews have discovered some remains as they gingerly remove rotting debris to clear the area for rebuilding.
But the two-day military search operation will be far more extensive, Defense Ministry spokesman Ippo Maeyama said on Sunday.
"We will do our utmost to recover bodies for bereaved families," he said.
Related readings:


 Japan earmarks 1st $50b for post-quake rebuild


 Japan orders evacuation around plant


 Students return to school in Japan's disaster zone


 Japan to allow TEPCO to remain listed
A total of 24,800 soldiers will scour the rubble, backed by 90 helicopters and planes, he said. Another 50 boats, along with 100 navy divers, will search the waters up to 20 kilometers off the coast, he said. Police, coastguard and US troops will also take part.
The operation will be the third intensive military search for bodies since the disaster last month. With the waters receding, Maeyama hopes the teams will have more success.
The search was complicated by the decomposition of some of the corpses, he said. Some had already turned into skeletons.
"You have to be very careful in touching the bodies because they quickly disintegrate. We cannot tell the bodies' gender anymore, let alone their age," he said.
The searches will continue, however, "as long as families want us to look for their loved ones", Maeyama said.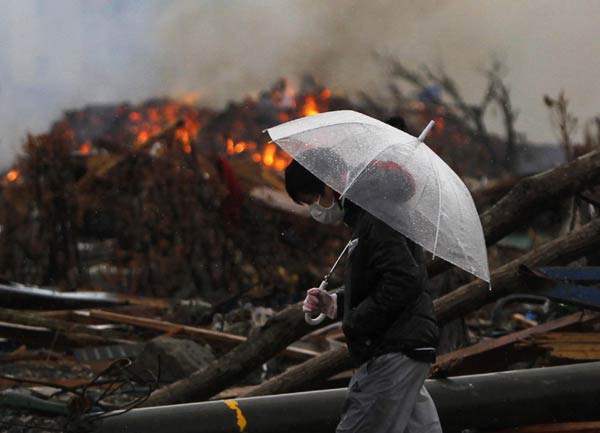 A man walks past burning debris in an area devastated by the March 11 earthquake and tsunami, in Minamisanriku town, Miyagi prefecture, April 23, 2011. [Photo/Agencies]
Meanwhile, the government in Fukushima prefecture will send a team of six veterinarians into the 20-km evacuation zone around the crippled Fukushima Daiichi nuclear power plant to survey livestock there.
Farmers in the area were estimated to have left 3,000 cows, 130,000 pigs and 680,000 chickens behind when they hurriedly fled the area last month when the nuclear crisis started.
"When we find dead animals, we will cover them with calcium hydroxide (caustic lime) due to sanitary concerns," the official said.
The government is also considering killing dying animals, but only after getting permission from their owners, said Yutaka Kashimura, an agriculture official in Fukushima.
"Killing animals is the very last resort," he said.
The no-go zone around the plant came into effect on Friday, with police erecting checkpoints to prevent people returning to their homes within the high-radiation area. There is also a 30-km area where people have been encouraged to leave.
AP -AFP