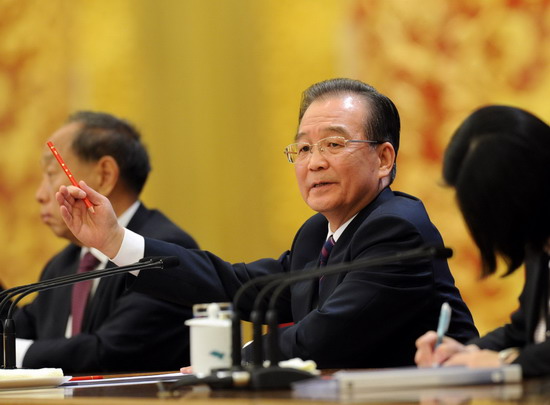 Chinese Premier Wen Jiabao gestures during his annual news conference following the closing session of the National People's Congress (NPC), or parliament, at the Great Hall of the People in Beijing March 14, 2011. [Photo/Xinhua]
China stands willing to offer earthquake-struck Japan further help, Premier Wen Jiabao said on Monday, expressing his deep sympathy to the neighboring country.
"I want to use today's opportunity to extend our deep condolences for the loss of lives in this disaster and to express our sincere sympathy to the Japanese people," Wen said at the end of his annual news conference in Beijing.
"China is also a country that is prone to earthquake disasters and we fully empathise with how the Japanese people feel now," he added.
"When the massive Wenchuan earthquake hit, the Japanese government sent a rescue team to China and also offered supplies," said Wen, referring to the 2008 Sichuan earthquake that killed more than 80,000 people.
"The Chinese rescue team arrived in Japan yesterday and we have provided relief supplies to Japan. We will continue to provide further necessary aid to Japan in accordance with their needs."