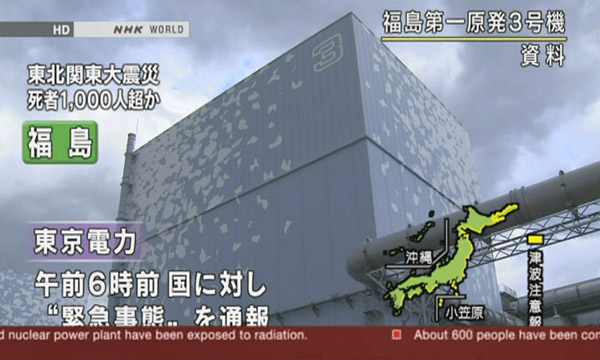 The exterior of reactor No. 3 at Fukushima Daiichi nuclear plant is seen in this still image taken from undated file video footage. Japan battled to contain a radiation leak at an earthquake-crippled nuclear plant on March 13, 2011, but faced a fresh threat with the failure of the cooling system in a second reactor. [Photo/Agencies] 
SENDAI– Thousands of people fled the vicinity of an earthquake-crippled Japanese nuclear plant after a radiation leak and authorities faced a fresh threat on Sunday with the failure of the cooling system in a second reactor.
Operator TEPCO said it was preparing to vent some steam to relieve pressure in the No.3 reactor at the plant 240 km (150 miles) north of Tokyo -- which would release a small amount of radiation -- following an explosion and leak on Saturday from the facility's No. 1 reactor.
Related readings:


 Japan's quake causes huge losses, rescues mobilized


 Chinese rescue team leaves for Japan


 IAEA: 170,000 evacuated near Japan nuclear plant


 Japan reports emergency at second nuclear reactor
As strong aftershocks continued to shake Japan's main island, the desperate search for survivors from Friday massive earthquake and tsunami pressed on and the death toll was expected to rise.
Thousands spent another freezing night huddled over heaters in emergency shelters along the northeastern coast, a scene of devastation after the 8.9 magnitude quake sent a 10-meter (33-foot) wave surging through towns and cities.
Kyodo news agency said the number of dead or unaccounted was expected to exceed 1,800. It also reported there had been no contact with around 10,000 people in one small town, more than half its population.
The government insisted radiation levels were low following Saturday's explosion, saying the blast had not affected the reactor core container, and the International Atomic Energy Agency (IAEA) said it had been told by Japan that levels "have been observed to lessen in recent hours".
But Japan's nuclear safety agency said the number of people exposed to radiation from the Fukushima Daiichi plant could reach 160. Workers in protective clothing were scanning people arriving at evacuation centers for radioactive exposure.
Intense efforts were underway to eliminate the threat of widespread contamination.
"They are working on relieving pressure and pumping in water into the No. 3 reactor," Chief Cabinet Secretary Yukio Edano told a news briefing.
"This will result in some radiation leakage, although at a level that won't affect peoples' health. It will help stabilize the situation."
Officials ordered the evacuation of a 20-km (12-mile) radius zone around the plant and 10 km (6 miles) around another nuclear facility close by. Around 140,000 people had left the area, the IAEA said, while authorities prepared to distribute iodine to protect people from radioactive exposure.
"There is radiation leaking out, and since the possibility (of being exposed) is high, it's quite scary," said Masanori Ono, 17, standing in line on Saturday to be scanned for radiation at an evacuation center in Fukushima prefecture.
Helicopters from Japan's Self-Defense Forces lifted 195 people from retirement homes and hospitals inside the exclusion zone.
Before news of the problem with reactor No. 3, the nuclear safety agency said the plant accident was less serious than both the Three Mile Island accident in 1979 and the 1986 Chernobyl nuclear disaster.
An official at the agency said it had rated the incident a 4 according to the International Nuclear and Radiological Event Scale (INES). Three Mile Island was rated 5 while Chernobyl was rated 7 on the 1 to 7 scale, the official said.