NEW YORK - Armed guards stand watch 24 hours a day. Cameras record every move, and monitors alert authorities should the prisoner try to escape. This is Dominique Strauss-Kahn's new jail away from jail, after the former IMF leader charged with sexually assaulting a maid left a New York City jail for a posh and pricey house arrest.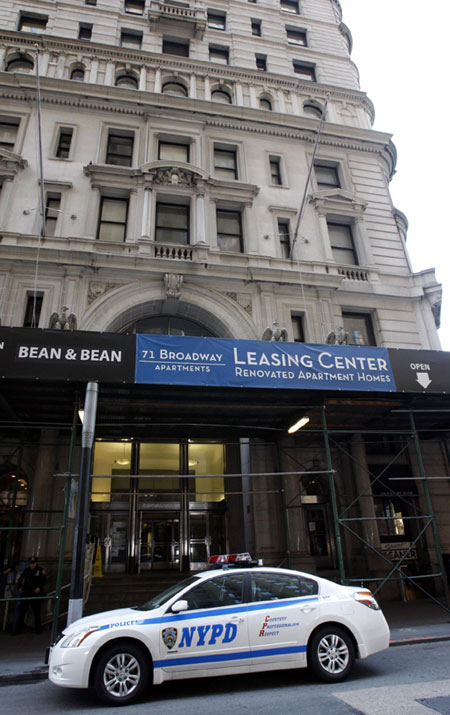 A police car is parked outside of the building where Dominique Strauss-Kahn is currently staying on house arrest in New York City May 21, 2011. [Photo/Agenices]
The plans hit a snag Friday when a tony Upper East Side apartment complex refused to accept the one-time French presidential contender because of unwanted media attention.
Instead, Strauss-Kahn was ensconced Saturday in a lower Manhattan high-rise within the New York Police Department's ring of steel, a network of private and police cameras. He's guarded by Stroz Friedberg, the same security firm that kept disgraced financier Bernard Madoff under surveillance in his own penthouse.
It's not clear when and where he'd be moved to a more permanent house arrest; calls to his attorney and to the security firm weren't returned Saturday.
Even with the severe restrictions, Strauss-Kahn's family wealth has afforded him one of the cushiest bail agreements possible. But it won't come cheap. The cost to secure the former International Monetary Fund chief was estimated at about $200,000 a month _ and he must foot the bill. In comparison, it costs the city about $6,500 a month to house an inmate at a facility like Rikers Island, where he had been held nearly a week.
The funds will go toward armed surveillance, the installation of cameras and a special bracelet shackled to his ankle that will set off an alarm if he travels too far.
Right now, he's not allowed out at all, but after he's moved to a more permanent location he can leave for court, doctor visits and weekly religious services. Prosecutors must be notified at least six hours before he goes anywhere. He can't be out between 10 p.m. and 6 am.
And he won't be lonely: Strauss-Kahn can take visitors _ up to four at a time in addition to family.
The 62-year-old was indicted by a grand jury this week on charges including criminal sexual abuse and attempted rape in the alleged attack last weekend at the Sofitel hotel near Manhattan's Times Square.
He was held at the jail initially because a judge sided with prosecutors who believed he was a substantial flight risk, given his wealth and international status, and worried if he was simply released he'd flee to France, which has extradition laws that favor its residents. His lawyers initially requested his release on $1 million bail, but revised the plan later in the week to add stricter house arrest restrictions.
State Supreme Court Justice Michael J. Obus signed off on the plan and ordered Strauss-Kahn's release from Rikers Island on Friday.
A spokeswoman for Stroz Friedberg had no comment on their latest client.
The company has a history of high-stakes, high-wealth clients: It secured Mahender and Varsha Sabhnani, a rich Long Island couple convicted of enslaving two domestic servants they brought from Indonesia by keeping their travel documents while having them perform forced labor. Over the course of the couple's home detention, the firm was chastised by a judge for allowing Mahender Sabhnani to stay out at business meetings in Manhattan until 1 am.
And then there's Madoff, who was under house arrest for over a year before he began serving a 150-year prison term in 2009 for swindling investors of billions. In a case study posted on its website on its involvement with Madoff, the company said round-the-clock monitoring was done by retired federal and high-ranking New York City officers who kept tabs on everything, from deliveries in and out of the building to recording his every move.
Security experts say it would take at least three experienced guards to do the job well in Strauss-Kahn's case _ two working at all times and one on reserve.
"You can't to go sleep. You need fresh guys all the time," said Beau Dietl, a longtime former NYPD detective who now does security work and is a private detective. "You can't let the guy out of your sight."
Nick Casale, who guarded Madoff initially, said the prisoner's wealth must be taken into account.
"For the average person, $1 million cash bail is astronomical. But you have to look at how this would impact his wealth, is it substantial, or is it trivial?"
Lawyers said in court Strauss-Kahn was worth about $2 million, but his wife, journalist Anne Sinclair, is substantially wealthy, and helped secure the $5 million bond the judge added to the bail agreement.
Experts say such agreements are becoming increasingly common for well-heeled defendants _ the most high-profile being Madoff, who was under private guard and had cameras trained on him 24 hours a day. Strauss-Kahn's lawyers cited the case _ in which Madoff posted $10 million bail _ as a reason to release the economist.
Some other white-collar bail agreements make Madoff's look puny.
In 2008, David Brooks, formerly the top supplier of body armor to the US military, was released on $400 million bond under a house arrest term that called for electronic monitoring and an armed guard in his apartment. His bail was revoked in 2010 when a federal judge ruled that he had schemed to hide assets from the court.
Raj Rajaratnam, a one-time billionaire hedge fund founder convicted of insider trading, is currently free on $100 million bail, but under house arrest at his Manhattan home while he awaits sentencing July 29.
It's just a fact, experts say, that money can buy you a sweeter deal while you wait for your criminal case to go to trial.
"So now what we're saying is that people of status and class and power can perpetrate these type of crimes, hire an expensive legal team, and meet the conditions of bail to satisfy the court to secure their freedom," said Nick Casale, a security expert who guarded Madoff. "Are we going to this caste system of defendants?"
But the freedom from jail meant dealing with the press _ and lawyers in Strauss-Kahn's case said the international media frenzy over his case changed the house arrest plans. Strauss-Kahn decided not to move to the Upper East Side luxury building "out of respect for the residents" who objected to the international media converging on the complex, Strauss-Kahn attorney William Taylor said.
On Friday, Donna Mancino said she couldn't get a working elevator to her apartment while Strauss-Kahn was being moved in. But she and other residents said the only disruptive aspect of his presence was the press staking him out.
"He has to stay somewhere _ and there are a lot of criminals on Wall Street," she said.
Strauss-Kahn is accused of attacking a 32-year-old housekeeper last Saturday in his $3,000-a-night hotel suite. The West African immigrant told police he chased her down a hallway in the suite, forced her to perform oral sex and tried to remove her stockings. He is scheduled for arraignment on June 6.