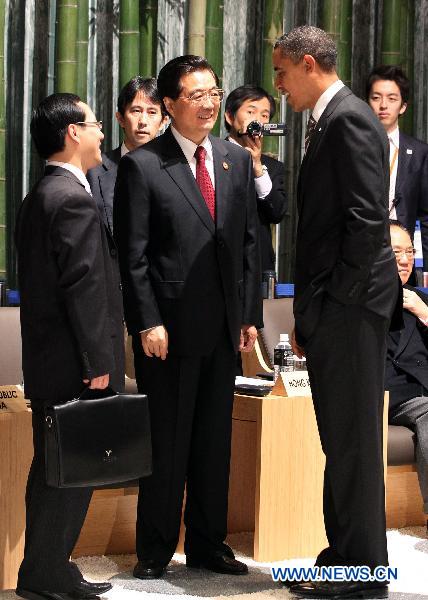 Chinese President Hu Jintao (C) talks with US President Barack Obama (R) before the second session of the 18th Economic Leaders' Meeting of the Asia-Pacific Economic Cooperation (APEC) in Yokohama, Japan, on Sunday Nov 14, 2010. [Photo/Xinhua]
YOKOHAMA, Japan - Leaders from 21 member economies of the Asia-Pacific Economic Cooperation (APEC) forum ended their two-day meetings here on Sunday with joint declarations pledging further efforts toward free trade and balanced economic growth.
Speaking on behalf of the leaders, Japanese Prime Minister Naoto Kan said APEC member economies will move forward with liberalization of trade and investment, and APEC has for the first time formulated a new growth strategy for balanced growth in the region.
Special Coverage:


Hu Attends G20, APEC meetings
Related readings:


 Hu urges trade liberalization at APEC meeting


 President Hu attends 2nd session of APEC meeting


 Hu puts forward growth proposal at APEC summit


 APEC leaders meet in Yokohama to ponder integration
In the declaration called "The Yokohama Vision -- Bogor and Beyond," the leaders pledged to build an APEC community in which " trade and investment are freer and more open."
APEC leaders also vowed to "take concrete steps" toward realization of a Free Trade Area of the Asia-Pacific (FTAAP), which "should be pursued as a comprehensive free trade agreement by developing and building on ongoing regional undertakings, such as ASEAN+3, ASEAN+6, and the Trans-Pacific Partnership, among others."
APEC champions a collective growth strategy that emphasizes high-quality development at a time the region is recovering from the financial crisis but facing uncertainty. APEC member economies "will implement the Growth Strategy out to 2015, focusing on the five desired attributes of balanced, inclusive, sustainable, innovative and secure growth."
Separate statements were adopted at the end of the meeting in the Japanese port city of Yokohama on the growth strategy, FTAAP and the Bogor Goals of free and open trade and investment.