Injured Syrians Treated in Israeli Hospital
Updated: 2013-09-02 08:37:31
(国际在线)
| | | | | | | | | | | |
| --- | --- | --- | --- | --- | --- | --- | --- | --- | --- | --- |
| | | | | Print | | Mail | | Large Medium Small | 分享按钮 | 0 |
Special Coverage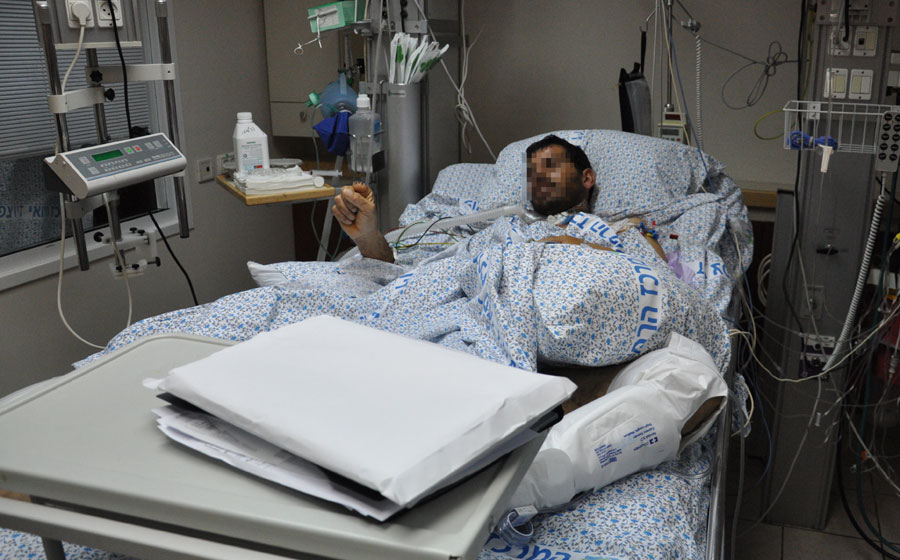 A wounded Syrian man receives treatment in the Intensive Care Unit at Ziv Medical Center in Safed on Thursday, August 29, 2013. [Photo: CRIENGLISH.com / Zhang Jin]
By CRI Jerusalem Correspondent Zhang Jin
bjh
As the Syrian civil war escalates, some of the wounded Syrians have been transferred to Israel for medical care. Currently, about 150 Syrians are being treated at Israeli hospitals.
CRI's Yi Huaijie has more.
Ziv Medical Center, in the northern Israeli city of Safed, is 35 kilometers from the border with Syria.
Since February, the hospital has received 76 Syrians wounded in the war, most of whom are civilians.
All Syrians in need of medical care when crossing into Israel are brought in by the country's military personnel and given free treatment at Ziv Medical Center. Calin Shapira, Deputy Director of the hospital, says that the Syrians are treated no differently than other patients.
"The treatment they are getting here is the best in the world. We cannot predict for how long the situation would continue, but the hospital will continue to receive wounded people as needed. They are treated only as wounded people. It doesn't matter whether they come from an enemy state and it doesn't matter whether they are civilians or combatants."
Syrians in need of treatment crossing into Israel usually require treatment for weeks or months before they completely recover.
So far, only one out of the 76 wounded has died. Six of them have been discharged from hospital. Despite the war, all the wounded Syrians say they want to return home after treatment.
Dr. Shukri Kassis is a plastic surgeon at Ziv Medical Center. Currently, his youngest patient is an eight-year-old Syrian girl whose legs were injured during a bombing. Kassis says that the Syrians were fearful when first arriving at an Israeli hospital, but now they feel safe.
"They were so surprised at the beginning and they were so scared and afraid. It's a very new experience for them. They have a totally different idea about what's going on here in Israel. What they know about us is totally different from the reality, so they are so surprised. I remember that she refused to talk to me on the first day. She said 'my father told me not to say anything.' Now, we are friends. So imagine what's happened."
A 15-year-old Syrian girl lost one leg during a bombing, but the doctors succeeded in saving her other leg so that she can walk in the future. She says that the experience in the hospital has changed her mind about Israelis.
"They are nice people here. I was taught that Israelis are killers. Now, I understand it's not true. Only at the first day, when I saw the soldiers, I was afraid. But after that, everything was OK. The medical team speaks Arabic like I do, which makes me feel like home."
The girl has not heard about the recent attack in against Syrian civilians allegedly involving chemical weapons, but says that fighting still continues in her hometown and there is no peace.
The hospital, on the other hand, has prepared for a possible attack from. Another Deputy Director at Ziv Medical Center, Vania Volach, says that hospital staff is well trained for this emergency.
"Actually, we prepare all the time. We have our routine for emergency periods, war and things like that. We have some shelters where we can treat people and where we can operate, as well. There are places where we can continue treating people even with the chemical attack, for example."
For CRI, I'm XYee.