China, US to target illegal wildlife trafficking
Updated: 2016-06-07 17:12
By Li Jing (chinadaily.com.cn)
Comments
Print
Mail
Large
Medium
Small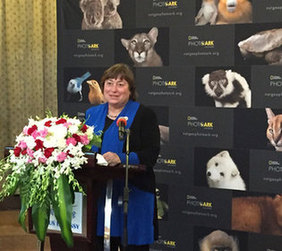 Catherine Novelli, the US under secretary for Economic Growth, Energy and the Environment, delivers a speech. [Photo by Li Jing/China Daily]
Chinese and US delegates will discuss ways to combat the multi-billion dollar illegal wildlife trafficking trade, as the two countries continue their high-level diplomatic talks.
In the lead up to China-US Strategic and Economic Dialogue, Catherine Novelli, the US under secretary for Economic Growth, Energy and the Environment, hosted a reception about wildlife conservation.
At the "Art for Animals" reception in Beijing, on June 5, Novelli said the S&ED would this year have a fourth wildlife trafficking breakout session, "which underscores how important this issue has become to our (the China-US) relationship".
She said wildlife trafficking was a multi-billion dollar transnational criminal activity.
"It is through engagements like the S&ED that we can strengthen international agreements to protect wildlife, promote commitments to conservation and wildlife crime fighting, and work with partners ranging from governments, to non-profit conservation groups, to private industry and the media," she said.
At the S&ED last year, China and the US together laid the groundwork for one of the most important wildlife conservation achievements.
Last September, President Xi and President Obama announced that both the United States and China would "enact nearly complete bans" on ivory imports and exports, including significant and timely restrictions on importing ivory as hunting trophies, and also promised "to take significant and timely steps to halt the domestic commercial trade of ivory".
"This announcement was a game-changer. As a result, the price of elephant ivory in China has been cut in half," Novelli added.