NBA China, Chinese education ministry extend partnership to grow basketball in China
Updated: 2016-06-06 15:42
(chinadaily.com.cn)
Comments
Print
Mail
Large
Medium
Small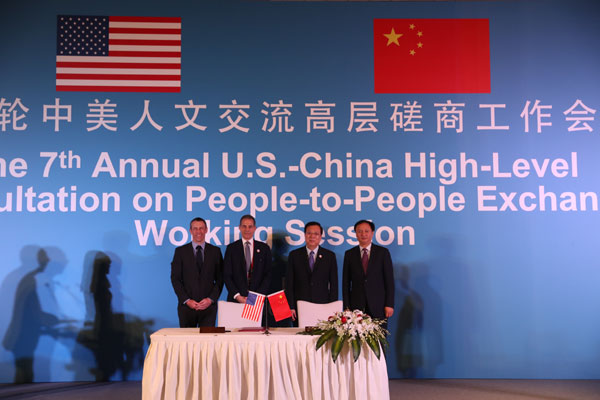 (From left to right): NBA China CEO David Shoemaker, US Under Secretary for Public Diplomacy and Public Affairs Rick Stengel, Chinese Vice Minister of Education Hao Ping and Xu Tao, Director General of the International Cooperation and Exchange Department of the Ministry of Education pose for photo at the signing ceremony hosted during the China-U.S. High-Level Consultation on People-to-People Exchange in Beijing on Monday.  [Photo provided for chinadaily.com.cn]
Collaboration will incorporate jointly-designed basketball curriculum in 500 schools in 10 provinces in September
BEIJING - NBA China and the Chinese Ministry of Education announced Monday an extension of their existing partnership to incorporate fitness and basketball development in elementary, middle and high schools across China.
Beginning with the 2016-17 school year in September, the pilot program in 500 schools in 10 provinces will provide students with enhanced basketball training through a basketball curriculum jointly developed by the Ministry of Educationand the NBA.
The announcement was made at a signing ceremony today by NBA China CEO David Shoemaker and Xu Tao, Director General of the International Cooperation and Exchange Department of the Ministry of Education, and witnessed by the US Under Secretary for Public Diplomacy and Public Affairs Rick Stengel and Chinese Vice Minister of Education Hao Ping at the China-US High-Level Consultation on People-to-People Exchange (CPE) in Beijing.
"We are excited to broaden our partnership with the Ministry of Education to make a long-lasting impact on the lives of Chinese students through a jointly-designed basketball curriculum and a wide range of school basketball programs," said Shoemaker. "This commitment marks another milestone in the NBA's youth and basketball development efforts in China."
NBA China willhost five coaching clinics in August to train P.E. teachers from the 500 schools using the newly-designed basketball curriculum. The teachers will then introduce and impart their knowledge to students through weekly basketball classesbeginning in September.
In addition, NBA China and the Ministry of Educationwill establish a steering committee consisting of basketball experts from China and the US to advise on the school basketball programs. The two parties will work closely to operate school-based basketball leagues and inter-class competitions, create a digital portal featuring training videos and other programs to develop basketball in elementary, middle and high schools.
In October 2014, NBA China and the Ministry of Education established a groundbreaking partnership that aims to provide enhanced basketball training to Chinese students.
This unprecedented partnership was the NBA's first collaboration with China's education authority and the Ministry of Education's first partnership with an American professional sports league. Since 2014, NBA China has hosted a series of coaching seminars and basketball clinics across China, launched Jr. NBA leagues in Beijing and Guangzhou, and pledged RMB 10 million (US$ 1.6 million) in a joint effort to build and refurbish public basketball courts across China.