Path to partnership is built on trust
Updated: 2015-06-19 08:18
By Fu Ying (China Daily Africa)
Comments
Print
Mail
Large
Medium
Small
China and the US need to take the optimistic high road and eschew extreme views
People in the United States see China differently, in three different ways perhaps.
The pessimistic school holds that conflicts between China and the US cannot be avoided if China continues to grow at the current pace.
The optimistic school - mainly comprising the economic, financial and technology sectors - has high expectations from China-US cooperation and believes a fast-developing China will create more opportunities for the US. Indeed, China has accounted for more than 30 percent of world growth since the global financial crisis, and its industrial restructuring will create huge opportunities for its trade partners and multinational companies.
The third, prudent or anxiety, school of chiefly US think tanks is worried about whether Sino-US relations will develop stably. But while discussing China's reclamation and construction work in the South China Sea, US think tanks and media do not focus on the sovereignty disputes. Instead, their concern is whether Beijing will drive Washington out of Asia. This should explain why the US tends to politicize or exaggerate the South China Sea and cyber security issues.
The US is anxious because China's modernization has not led to a change in its political system and it has become more confident owing to its economic development. It is anxious also because rather than yielding to US' whims, China has been trying to address regional and global affairs and the profits of US companies are falling as China deepens its reform.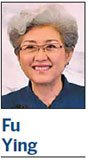 Given these facts, the US has been swinging from supporting to doubting to opposing China's role in maritime search and rescue operations, global economic governance, regional infrastructure construction and the fight against climate change. No wonder, the US' reactions to China's One Road, One Belt Initiative and the Asian Infrastructure Investment Bank have been mixed.
The US places the security of its allies in the Asia-Pacific above the security of the entire region, which is unacceptable to non-aligned countries like China. Thus it is no exaggeration to say the US is a victim of its outdated security concept.
The core of the "new type of major-country relationship" agreed by Chinese President Xi Jinping and his US counterpart Barack Obama is to avoid conflicts between big powers and to follow a new path of coexistence.
Since Beijing and Washington both attach great importance to Xi's state visit to the US in September, they should use it to strengthen communication and pay more attention to each other's views. Also, the two sides should ensure their people are made aware of what is said in the talks, because public understanding and support are vital to deepening dialogue and stabilizing policies.
China and the US should not form extreme views based on suspicion and they should desist from taking any action that could harm bilateral ties. For this, they have to carefully manage and control their differences in risky matters, and the US has to pay attention to the concerns of countries other than its allies. And allowing journalists to fly in a US Air Force P-8A plane to take photographs of China's construction work in the South China Sea is a risky move.
Since World War II, the US military has aggravated many problems that it set out to resolve. Washington should realize this and avoid making similar mistakes, especially in Asia.
And China should learn how to graduate from a big country to a strong power. But its industrial restructuring and deepening reform remain the central task. While doing so, China needs to pay greater attention to the views of US think tanks and media, in order to avoid taking actions that could create misunderstandings, because China-US ties over the past more than two decades have benefited not only the two countries, but also the rest of the world.
The author is director of the Foreign Affairs Committee of the National People's Congress. The article is an excerpt from her speech at a forum held by the Chinese Academy of Social Sciences in Beijing on June 4.
(China Daily Africa Weekly 06/19/2015 page12)