US benefits from high-level engagements with China: Lew
Updated: 2015-04-06 04:44
By LIA ZHU in San Francisco (China Daily USA)
Comments
Print
Mail
Large
Medium
Small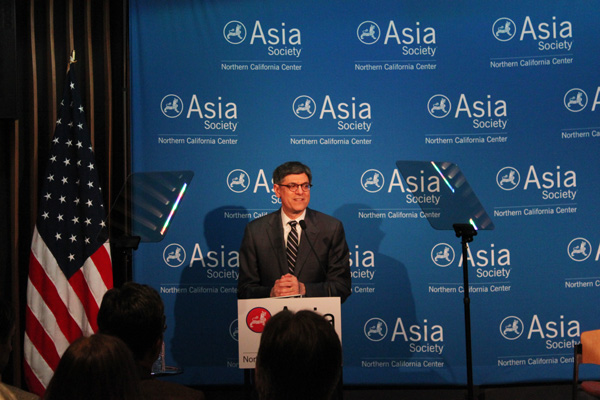 The US Treasury Secretary Jacob Lew speaks at a meeting held on Tuesday in San Francisco after returning from a two-day visit to Beijing. The meeting is held by Asia Society, a nonprofit organization dedicated to educating the world about Asia and attended by around 100 business representatives in the Bay Area.  [LIA ZHU/CHINA DAILY]
The US Treasury Secretary Jacob Lew said that Americans have benefited from China's contributions to the bilateral economic development and that the United States welcomes China having a significant role in global economics.
"I returned today from meetings in Beijing, where I had frank and constructive conversations with Chinese leaders about the state of our two economies, the bilateral issues we face," Lew said while addressing a meeting in San Francisco on March 31 after returning from a two-day visit to Beijing.
The US-China Strategic and Economic Dialogue and other high-level engagements have produced "real results" for the American people, as China has been making efforts to increase imports from the US, appreciate the yuan and commit itself to negotiating a Bilateral Investment Treaty, Lew said. He spoke to some 100 executives of Silicon Valley-based companies and businesses who attended the meeting held by Asia Society, a nonprofit organization dedicated to educating the world about Asia.
"Since early 2009, US exports of goods to China have roughly doubled, growing much faster than our exports to the rest of the world," he said. "Last year, the United States exported around $166 billion in goods and services to China."
He also emphasized China's efforts to appreciate the yuan and its commitment to enhancing the transparency of reserve data, such as the adoption of the IMF standards for data reporting, he told the audience.
Chinese President Xi Jinping told the G20 Summit last November that China would subscribe to the Special Data Dissemination Standard of the International Monetary Fund (IMF) for reporting foreign-exchange reserves.
"Since China de-pegged its exchange rate from the dollar in 2005, the RMB has appreciated approximately 33 percent," he said. "Since 2010, the RMB has appreciated approximately 20 percent on a trade-weighted basis."
Another result brought about by the two countries' high-level engagement is a bilateral agreement on expanding the Information Technology Agreement and the negotiation of a Bilateral Investment Treaty (BIT), according to Lew.