Curtain raising on exciting era of cultural cooperation
At the Swan Theatre in Stratford-upon-Avon, birthplace of William Shakespeare, theatergoers watch a play about false accusations, injustice, and their consequences. It may share Shakespearean themes but Snow in Midsummer is an adaptation of a classic 13th century Chinese drama.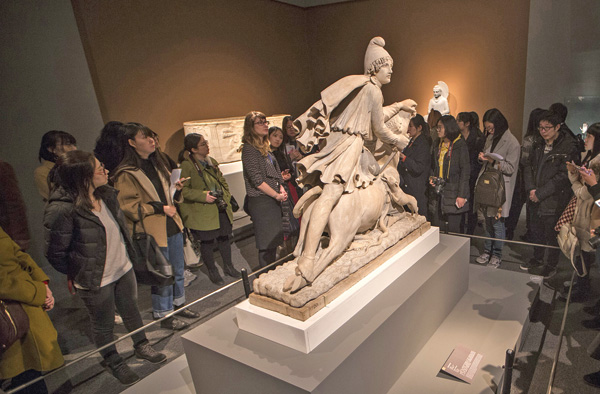 Visitors enjoy a Mithras sculpture in Beijing during the A History of the World in 100 Objects exhibition on March 1.  [Photo/Xinhua]
The play, also known as The Injustice Done to Dou E, is studied by many Chinese students and has been translated by Frances Ya-Chu Cowhig as part of the Chinese Classics Translation Program, a Royal Shakespeare Company project to bring Chinese classics to British audiences. The program's partner project is the Shakespeare Folio Project, which brings translations of Shakespeare's plays to Chinese audiences.
The exchange of classic theater is one example of the burgeoning cultural links between China and the United Kingdom, which have increased immensely in the last 45 years.
Other important exchanges include the upcoming Terracotta Warriors exhibition in Liverpool and the British Museum's A History of the World in 100 Objects, currently on display in Beijing.
From April 2017, the British Library will take some of the most rare and important English literary icons to China for a major exhibition at the National Library of China in Beijing. It's very different from the 1970s when little Western culture was seen in China and the only Chinese culture seen in the UK was the Japanese TV adaptation of Chinese classics The Water Margin and Monkey. Now, millions of Chinese people watch BBC programs such as Sherlock and Downton Abbey. In the UK, a week doesn't go by without a new offering of Chinese music, theater or dance.
Rachel Harris, director of the China Changing festival at London's Southbank Centre, said:"We had about 5,000 visitors and their response has been incredible. The next one this autumn will be bigger."
Harris said her festival high point was Zhang Jun's one-man interpretation of Hamlet, using Chinese opera techniques.
Lik Yuen, deputy head of the Confucius Institute in London, welcomed the prospect of technology increasing the depth and frequency of cultural interchange, citing the National Theatre Live simultaneous broadcasts of plays in Britain to cinemas in China.
"With this platform, we can do all kinds of things," she said.
The effort to build Sino-UK cultural bridges started decades ago. The Society for Anglo-Chinese Understanding has been doing so since it was founded in 1965. Zoe Reed, who leads the society, said its work today is as relevant as ever.
"Our role is also much more about helping Chinese visitors understand Britain," she said."We think it's increasingly important to understand and respect China and its culture, in a world that is being increasingly influenced by China."
The writer is a freelancer for China Daily UK.