Yunnan institute develops rose hybrid to honor Aung San Suu Kyi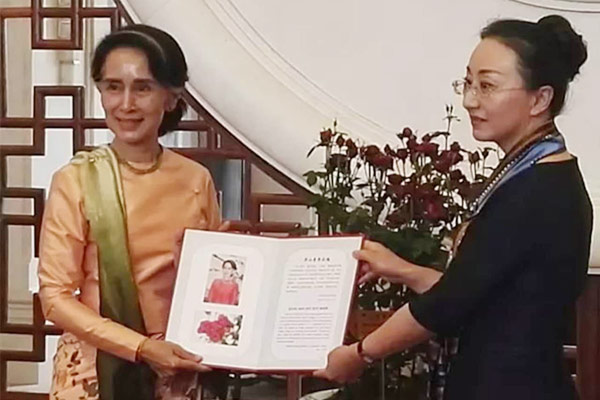 Aung San Suu Kyi, left, poses with the certificate of "Aung San Suu Kyi Rose" in Kunming city, capital of Southwest China's Yunnan province, on May 17, 2017. [Photo provided to chinadaily.com.cn]
On May 17, Myanmar State Counsellor Aung San Suu Kyi was presented with a new rose hybrid that was named in her honor in Kunming, China. Its official name is "Aung San Suu Kyi Rose".
"Aung San Suu Kyi Rose" is a hybrid from two other traditional Chinese rose varieties. The experts at the Institute of Flowers in Yunnan Agricultural Sciences Academy started working on this new rose variety in April 2012. Four years later, they finally found success.
During the ceremony, the Yunnan government issued the certificate to Aung San Suu Kyi. Then Aung San Suu Kyi watered the rose and put the "Aung San Suu Kyi Rose" label on the flowerpot. "The rose's color is very beautiful, so exquisite. And it's good for headwear I think," she said. "I will plant this rose in my home yard and let the rose witness the friendship between Myanmar and China."
"Aung San Suu Kyi Rose" is the embodiment of love, friendship, encouragement and devotion. For Burmese, Aung San Suu Kyi is also treated like a Burmese rose. When she started her political career, she had always been biting and sarcastic, and people called her a rose with thorns. Now she always wears a flower in her hair to make herself more elegant and dignified.
Aung San Suu Kyi visited Yunnan after she attended the Belt and Road Forum.