UK police given authorisation to shoot suspected terrorists using vehicles as weapons
UK armed police, whose use of guns is strictly controlled, have now been given permission to shoot at suspected terrorists using trucks or cars as a weapon of destruction, a radical departure from previous rules of engagement.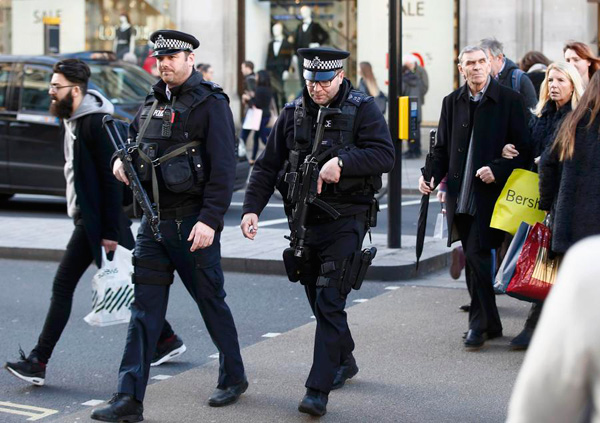 Armed police walk amongst shoppers along Oxford Street in London, Britain, in this file photograph dated December 23, 2015.  [Photo/Agencies]
Deputy Chief Constable Simon Chesterman, said the convention that police should not shoot at drivers had been abandoned because of recent terror assaults in the UK and mainland Europe where trucks and cars had been used as weapons.
"Terrorists keep adapting their tactics and we've seen some very horrible and different tactics using vehicles and lorries (trucks)," he said.
In March, 52-year-old Khalid Masood, a British Muslim, killed five pedestrians on Westminster Bridge and injured 52 by driving a hired car at them. He was shot dead moments later after he ran into the Houses of Parliament entrance and fatally stabbed a police officer.
At Christmas a failed Tunisian asylum seeker, Anis Amri, killed 12 people when he drove a truck into shoppers at a Christmas market in the German capital of Berlin; he fled to Milan by train and was shot and killed by police four days later.
In Nice, southern France, 84 people were killed and dozens injured when Mohamed Boulel, a French national of Tunisian origin, drove a truck into crowds on the promenade celebrating Bastille day in July last year. Police shot and killed him before the truck came to a standstill.
Chesterman said previous police policy was not to shoot at moving vehicles, but the change in tactics by terrorists had altered things.
There will be an estimated 7,000 armed police in the UK out of an estimated 141, 307 officers in England, Wales and Scotland; the Northern Ireland Police Service's officers are routinely armed, unlike their counterparts in the rest of the UK.
Lastest police weaponry includes the SIG516 assault rifle, whose 5.56mm bullets are capable of penetrating armoured glass, Chesterman said.
"I am certain that with the research we have done, an armed response vehicle officer has the ability to fire at the cab of a lorry and bring it to a stop," he said.
To contact the reporter: chris@mail.chinadailyuk.com