Telling the story of two nations from points of view of the prominent and ordinary alike
To William Mundell, a US entrepreneur who has no shortage of observations about China, the relationship between the US and China suffers from a lack of investment in its infrastructure. To move the relationship forward, he believes it's better to take a step back and focus on improving the foundation of the relationship, which is public opinion - US public opinion about China, and Chinese public opinion about the US.
Mundell is the producer of a 90-minute documentary film exploring the US-China relationship, tentatively titled Better Angels - a phrase borrowed from the closing line of Abraham Lincoln's first inaugural address, which ends with an impassioned plea to avoid terrible conflicts.
The film, which is likely to be out for global release early next year, tells the stories of prominent politicians and businessmen, as well as ordinary people, such as factory workers and teachers, from both countries.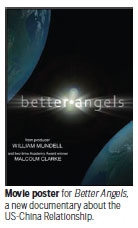 "I've had a unique vantage point over the last couple of decades to observe both countries up close," said the 54-year-old entrepreneur, who first visited China in 1991, when "there were more bikes than cars on the road".
"I have witnessed firsthand [China's] meteoric rise. I want to introduce to America a China that has substantial similarities with our frontier past, a China that is willing to take risks we once took but no longer do today and therefore a China that can and is helping create jobs for the long term unemployed, the so called forgotten class.
"This is a China that America should be more aggressively embracing to improve our own standing," he said.
"I want to introduce to China a segment of America that is still open, not withstanding what they may hear through the press and political establishment in both countries."
Mundell said we limit what the relationship can be out of the gate by consigning the terms like "constructive engagement" and "living with our differences." "When I see the emotions on the faces of elder Chinese statesmen when they talk about the heroism of Flying Tigers during the war against fascism, I know we are setting the bar too low," he said.
Mundell and his team, including a two-time Academy Award-winning director, set out to tell the other side of the story of China's rise, its impact on global affairs and on the US.
With the goal of shattering myths that some Chinese have about the US and some Americans have about China, the team searched for the voices and faces that best represent the "infrastructure" of the relationship.
In one story, two American women living in Thomasville, one of the poorest counties of Alabama, tell how their lives were changed when a Chinese company opened a copper plant in their hometown.
The plant brought 300 new jobs and breathed new life into a community that was devoid of investment for 45 years.
The two women were part of the long term unemployed in the US, or the "forgotten class", and the victims of the same dislocation from globalization that is wrecking China now, Mundell said.
"When you reach that state of depravity, a job is a lot more than a paycheck. It's a ticket to restore your dignity and sense of self-worth," he said.
In the film, the mayor of Thomasville says, "We must be friends first. We must trust each other. And if we do those two things, business will take care of itself."
Mundell said the film is more "anthropological" in its approach than policy oriented.
He said they were not just looking for people knowledgeable about US-China relations, but those who appeal to a wide audience and serve to debunk the myths surrounding the relationship.
"As word spread about what we were trying to do, people were coming out of the woodwork with their own stories. Some of the best stories to date came by accident," he said.
Among those characters interviewed in the film, what they have in common is how open-minded they are about each other, according to Mundell.
"Our characters run into plenty of obstacles that derive from the different customs and approaches of our two peoples, but because they are open-minded they find a way to resolve it. They are the heroes of our film and they are the models for others to follow," he said.
By opening up their hearts and minds, the film stays away from specific solutions and aims to make a whole range of policy options more viable.
"I'd like to think we will raise the expectations about what the US-China relationship can be, and, by doing so, will encourage our leaders to move beyond 'living with our differences' to 'capitalizing on our differences' for mutual advantage," Mundell said.
"I think the rise of China does not have to mean the decline of America; that for the first time in history two great powers can not only rise together, but help each other get there," he added.
liazhu@chinadailyusa.com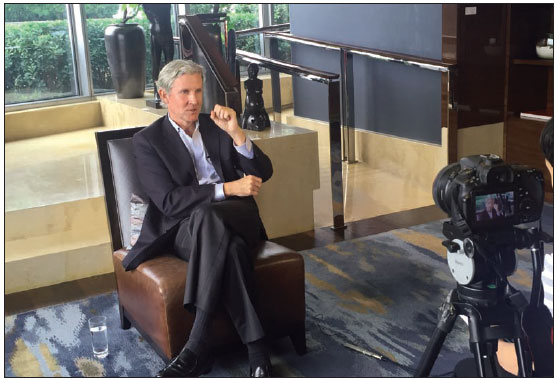 William Mundell says he has had a unique vantage point of China's "meteoric rise" over the past two decades. photos Provided to China Daily.