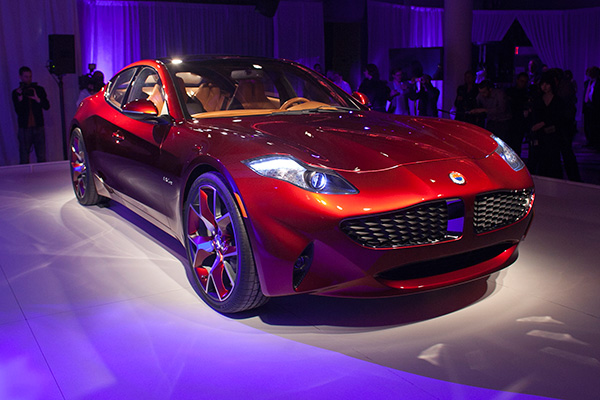 Wanxiang Group is the owner of Fisker Automotive, which makes plug-in hybrid electric vehicles, and the battery maker A123 Systems. [Photo/Agencies]
Didi Kuaidi to invest $100m in Lyft, partners with LinkedIn
Two major Chinese companies made a big push to step up their presence and investments in the United States on the sidelines of a meeting between executives from both nations on Sept 23 in Redmond, Washington.
Chinese auto parts maker Wanxiang Group said it will make greater investments in the US, especially in clean energy, while Didi Kuaidi agreed to invest $100 million in ride-sharing transportation company Lyft.
Didi Kuaidi, China's largest car-hailing service platform, said it expects to launch a "shared software service" later this year with Lyft.
The service will allow Didi Kuaidi users to use Lyft's service in the US and vice versa.
Didi Kuaidi also penned a deal with LinkedIn for the social networking platform based in Silicon Valley to take over the Chinese company's talent recruiting and training in North America.
LinkedIn's platform will eventually be integrated into Didi's ride-sharing services in an effort to expand the US company's services to Chinese mobile phone users.
The major deals came after 15 Chinese business leaders met with their US counterparts at the US-China Internet Industry Forum on Wednesday.
Wanxiang Group is the owner of Fisker Automotive, which makes plug-in hybrid electric vehicles, and the battery maker A123 Systems.
It currently has more than 40 production plants and 13,500 employees in the US.
Wanxiang Group has invested more than $1 billion into US companies from 2012 to 2014, according to the company.
Chairman of the Board Lu Guanqiu said that he is confident in the company's development in the US.
He added that the company's clean energy business is growing while sales of conventional auto parts are stable.
He also called for Chinese companies investing in the US high-tech sector to be treated fairly.
Will Cheng, chairman and CEO of Didi Kuaidi, said its new partnerships will allow it to learn from Lyft and LinkedIn through their extensive cooperation.
He said it's important for all companies involved to have an opportunity to engage in dialogue in an equal, open and honest manner.
China has become the second-largest innovator of Internet technologies due to the nation's drive to promote mass entrepreneurship and innovation.