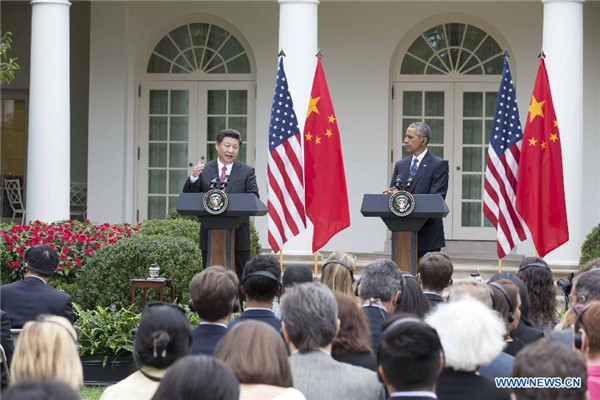 Chinese President Xi Jinping (L) and US President Barack Obama meet with the press after their talks in Washington DC, the United States, Sept 25, 2015. [Photo/Xinhua]
WASHINGTON - Chinese President Xi Jinping said here Friday that China and the United States have "a lot of common interests" on the issue of the South China Sea.
Xi, paying his first state visit to the United States, made the remarks at a joint press conference with US President Barack Obama at the White House.
Both China and the United States support the maintenance of peace and stability in the South China Sea, as well as a peaceful solution to disputes among directly concerned parties through negotiations and consultations, he said.
The two countries also support the freedom of navigation and overflight that countries enjoy according to international law and the management of differences through dialogue, he added.
Xi noted that both China and the United States support the comprehensive and effective implementation of the Declaration on the Conduct of Parties in the South China Sea and an earlier completion of negotiations on the Code of Conduct in the South China Sea based on consensus.
The two sides have agreed to continue to maintain constructive communication on relevant issues, said the Chinese president.
Before flying to the US capital, Xi concluded a busy two-and-a-half-day stay in the West Coast technology and aviation hub of Seattle, where he put forward a four-point proposal on developing a new model of major-country relationship between China and the United States.
The Chinese president will be in New York from Sept 26 to 28 for a series of summits and meetings marking the 70th anniversary of the founding of the United Nations.