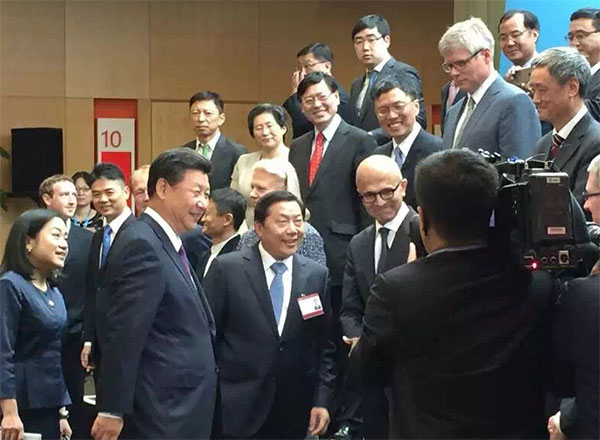 Chinese President Xi Jinping talks with tech executives at 8th US-China Internet Industry Forum in Seattle, Sept 23, 2015. [Photo by Lao Jiang/Provided to chinadaily.com.cn]
President Xi Jinping called for China and the United States to embark on constructive dialogues on cybersecurity, saying "no one can stay out of this affair".
It was the third time in three days that Xi, who is making his first state visit to the US, had addressed the issue.
He made the remarks to key delegates at the eighth China-US Internet Industry Forum at the headquarters of Microsoft in Seattle on Wednesday.
Xi said the informationization of society is developing rapidly, with the role of the Internet in daily life ranging from public use to securing a country's important infrastructure facilities.
"Both China and the US are major players in cyberspace, and the two countries have important common interests and room for cooperation," he said.
"They should work on the basis of mutual respect and mutual trust, embark on constructive dialogues regarding the cyberissue, make (this issue) a new highlight for China-US cooperation, and make cyberspace better benefit people of the two countries and the world."
Xi also called on all countries to cooperate on cybersecurity and draw up Internet policies that correspond to their national conditions.
He touched on the cyberspace issue in an interview with The Wall Street Journal before his state visit to the US and in a speech at a welcoming dinner in Seattle on Tuesday.
Cybersecurity has become a thorny issue between China and the US as Washington has recently stepped up pressure on Beijing over alleged cyberattacks-an accusation China has denied.
Earlier this month, the two countries reached consensus on combating cybercrime during a visit by Xi's special envoy Meng Jianzhu, a senior official in charge of public security.