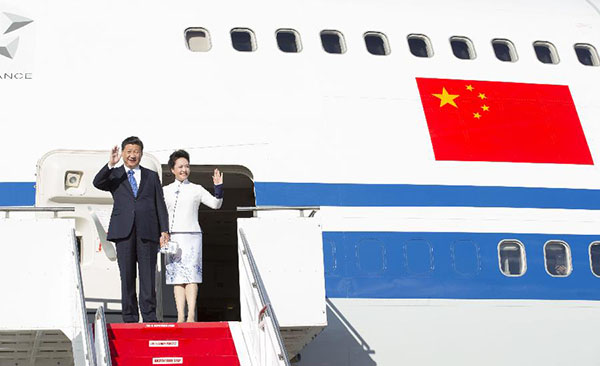 Chinese President Xi Jinping (L) and his wife Peng Liyuan wave upon their arrival in Seattle, the United States, Sept. 22, 2015. Xi arrived in this east Pacific coast city on Tuesday morning for his first state visit to the US. [Photo/Xinhua]
Xi Jinping kicked off his state visit to the United States on Tuesday and as well as the president the global media also focused on the first lady at his side.
Peng Liyuan has accompanied her husband on 11 of his 15 official visits since he took office.
Lu Peixin, former acting director of the Protocol Department of the Ministry of Foreign Affairs, told Beijing News that Peng's agenda would usually be arranged separately if she travels with Xi on a foreign visit.
So what will she do this time?
Interacting with the president
Dubbed by foreign media a "new source of China's soft power", Peng often becomes the focus of cameras the minute she exits the plane.
Photos of Xi and Peng waving to the crowd during Xi's first state visit to Russia in 2013 were immediately spread on social media.
Peng interacts with her husband frequently during visits. One example was the pair playing with a swing during a visit to India last September. On their visit to Trinidad and Tobago in 2013, Xi was seen holding an umbrella for his wife.