Hours after it was announced on Wednesday that China would buy 300 airplanes from Boeing, Chinese President Xi Jinping toured the plane maker's Everett, Washington, plant and singled out the company as an example of win-win cooperation in Sino-US relations.
"Boeing is the supporter, participator and promoter of China-US trade and economic cooperation, and plays an important role in the development of Sino-US relations," Xi said. "I expect Boeing will further deepen cooperation with China and continue to contribute to the trade and economic cooperation and relations between China and the US."
At a greeting ceremony at the Paine Field factory, Xi said cooperation between China and Boeing has expanded over time and provided mutual benefits.
"China's development will bring more opportunities for US companies and open up a better future for mutual benefit and win-win cooperation with higher standards and at deeper levels," he said.
Xi was warmly welcomed by Boeing executives and employees. Boeing President and CEO Raymond Conner showed Xi an assembly workshop, and Xi talked with workers. He asked about energy conservation and emission reduction technologies and some future airplane design concepts.
The factory builds Boeing's Dreamliner 787, and Xi stepped onto one that will be delivered to China's Xiamen Airlines.
Founded in 1916, Boeing is the world's largest aerospace company and leading manufacturer of commercial jetliners and defense, space and security systems.
China is Boeing's largest international market, accounting for about a quarter of the company's deliveries so far this year.
In addition to selling China 300 airplanes, Boeing announced that it will build a 737 aircraft completion center in the country.
"China is a critical international market for commercial airplanes," Conner said. "We thank our Chinese customers for selecting fuel-efficient Boeing airplanes to meet their fleet growth and expansion."
The 300 airplanes' list prices put the deal's total value at $38 billion. The package includes 240 airplanes for Chinese airlines, including 190 737s and 50 wide-body aircraft, and another 60 737s for leasing companies ICBC and CDB Leasing.
"Boeing airplanes have played an important role in supporting the development of China's aviation transportation for the past 40 years," said Li Hai, president of China Aviation Supplies Holding Company. "These additional airplanes will further help connect the people in China and around the world."
Commercial Aircraft Corp of China Ltd, also known as Comac, signed a cooperative agreement with Boeing for the center. This will be the company's first non-US airliner plant, tasked with the completion and handover of single-aisle 737 jets to customers.
European plane maker Airbus Group SE, which competes with Boeing for plane orders, already has a similar facility in Tianjin, near Beijing. Airbus signed an agreement in July to set up its second Chinese plant.
On Tuesday the National Development and Reform Commission of China signed a Memorandum of Understanding with the US plane maker to promote comprehensive strategic cooperation in the civil aviation industry.
According to the MOU, in the next five years until 2020, the two sides will enhance industrial cooperation, expand scale of production, jointly develop "green aviation technologies," and develop world-class air transportation systems together.
In addition, Boeing has agreed to authorize the Aviation Industry Corporation of China to increase its production of Boeing 747-8 plane parts.
With industry experts predicting continued rapid growth through 2020 for China's air transportation market, Boeing is vying against other major aircraft manufacturers such as the Europe-based Airbus Group for a bigger share of Chinese orders. The deal and memorandum show the great importance that the company attaches to the China market, aviation experts said.
Boeing expects China will need 6,330 new airplanes over the next 20 years, with a total value of $950 billion. At least 4,630 of these would be single-aisle airplanes, such as the Boeing 737 and the Airbus 320.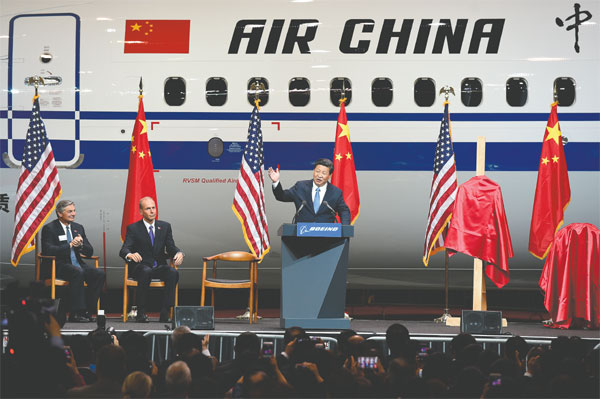 President Xi Jinping (right) speaks beside Ray Conner, president and CEO of the Boeing Commercial Airplanes and Dennis Muilenburg, president and CEO of the Boeing Company, after his tour of the Boeing assembly line in Everett, Washington. Boeing has reached deals with Chinese firms to sell 300 aircraft and set up a completion center in China, state media and its local partner said Wednesday, as President Xi Jinping began a visit to the United States. Mark Ralston / AFP
(China Daily USA 09/24/2015 page2)