Chinese President Xi Jinping visited Lincoln High School in Tacoma, Washington on Sept 23. What makes Lincoln High School so special that the president paid it a visit? Let's find out more about this special high school.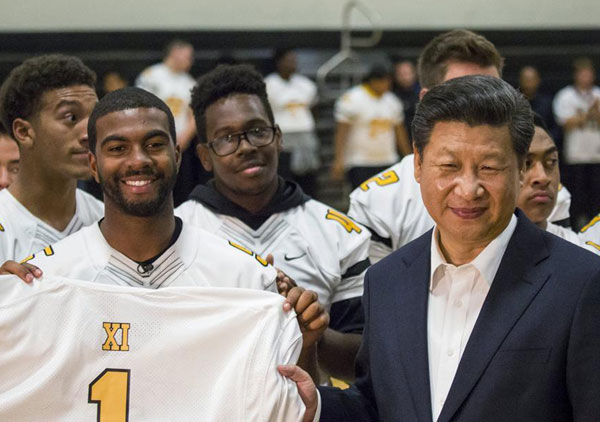 Chinese President Xi Jinping receives a custom No 1 Lincoln Abes jersey that bears his name as he visits football players at Lincoln High School in Tacoma, Washington, Sept 23, 2015. [Photo/Agencies]
Historical bonds
The bonds between President Xi and Lincoln High School started 22 years ago, when Xi visited Tacoma as a lower-level party official of Fuzhou city, East China's Fujian province in 1993. A year later, Tacoma and Fuzhou became sister cities, bringing more frequent cultural and educational exchanges.
In 2008, in order to facilitate the Sino-US communication between teachers, students, culture and sports, Lincoln High School signed a memorandum with Fuzhou Education College Attached High School.
Epitome of multi-culturalism
The principal of the school Patric Erwin said Lincoln High School is the epitome of the multi-culturalism in America. 15% of the total 1,500 students are Asian.
Due to the favorable foreign investment policies made by the state government, many Asians including Chinese come to Tacoma with capital to obtain permanent residence. Thus, students from different cultural and ethnic backgrounds make up the multi-cultural high school.