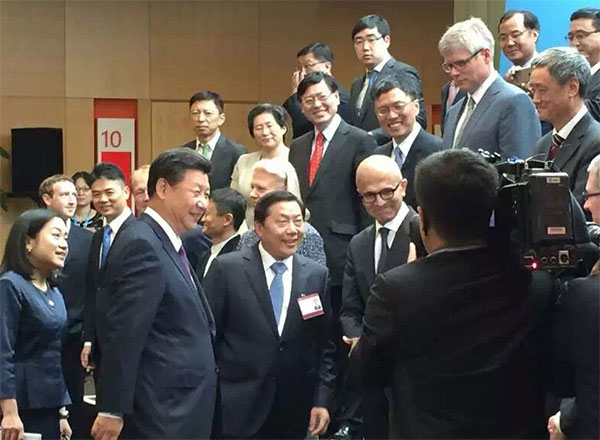 Chinese President Xi Jinping talks with tech executives at 8th US-China Internet Industry Forum in Seattle, Sept 23, 2015. [Photo by Lao Jiang/Provided to chinadaily.com.cn] 
Seeking better ties with US businesses, especially information technology elites, President Xi Jinping called for more cooperation in trade between the two nations on Wednesday. A few hours later he addressed another closely-watched issue – cybersecurity.
Xi's busy schedule in Seattle took him to a roundtable discussion with business leaders from both countries, including Alibaba founder Jack Ma, Apple Inc CEO Tim Cook and BerkshireHathaway's Warren Buffett.
The visiting president encouraged more investment and reiterated support for US businesses operating in China, hosted by the Paulson Institute. The event highlighted China's market potential.
"We support large American businesses in setting up regional headquarters or research and development centers in China, and encourage more small- and medium-sized companies to expand their businesses in China. Meanwhile, China will keep increasing its investment in the United States," Xi said citing China's market-friendly policies.
Pushing for more active trade cooperation, Xi said trade is mutually beneficial as the American businesses that operate in China and cooperate with Chinese counterparts have played a positive role in China's development and, by harvesting generous profits at the same time, helped boost the American economy.
A few hours later Boeing Co announced a $38 billion package to sell 300 aircraft to China as Xi toured the airplane manufacturer's plant in Everett, 25 miles (40 km) north of Seattle.
Boeing also revealed plans to build an aircraft finishing center in China, its first outside the United States.
To the east of the US west coastal city, at Microsoft's campus in Redmond, where Xi was welcomed by Microsoft's co-founder Bill Gates and its CEO Satya Nadella, he spoke at the 8th US-China Internet Industry Forum that saw the gathering of several tech executives, including Facebook's Mark Zuckerberg, Amazon's Jeff Bezos and Tencent founder Pony Ma Huateng.
A safe and stable cyberspace is of great significance for world peace and development, Xi said.
Addressing cybersecurity, one of the pressing concerns that is believed to sometimes strain China-US relations, he added that China, besides advocating building a peaceful, safe, open, and cooperative cyberspace, proposes that all nations enact Internet public polices which are in accordance with their particular conditions.
"We are on the same boat," said Lu Wei, China's chief Internet regulator, highlighting the two nations' shared pursuit of safer Internet.
Xi also visited Lincoln High School in Tacoma, south of Seattle, along with wife Peng Liyuan. The sports-loving president received a jersey while watching the school's football team practice.
He will head to Washington on Thursday where he will meet his US counterpart Barack Obama.