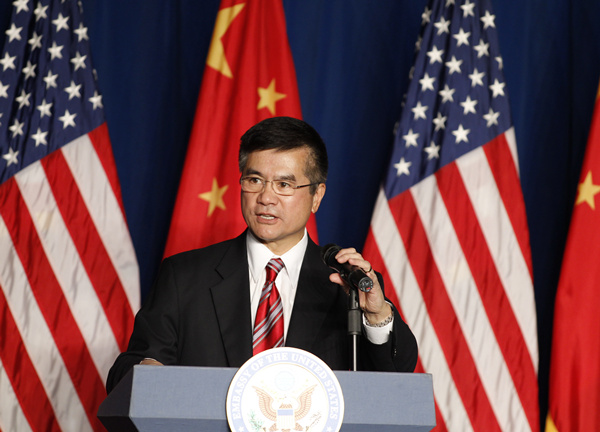 Gary Locke in file photo. [Photo/Asianewsphoto]
Former US ambassador to China Gary Locke says the most important result of this week's meetings between Chinese President Xi Jinping and President Barack Obama will be "frank and candid'' discussions on contentious issues such as cyber security and market access to China for US companies.
In an interview with China Daily, Locke said cyber security is the most important issue now in US-China relations and "obviously a topic of great, great concern'' to President Obama. "He feels very strongly that cyber theft must stop,'' Locke said, adding whether it's coming from an "an entity in the United States or an entity in China or Russia.''
He said the two leaders also will talk about "some of the territorial issues and the activities of China in disputed waters'', as well as "continuing a partnership'' in trying to stop North Korea from developing a nuclear weapon and other countries from the proliferation of nuclear weapons.
Saying there "there is no substitute for face-to-face dialogue'' between world leaders, and "no better substitute than frank, really frank, candid, honest dialogue,'' Locke, who served as US ambassador to China from 2011-2014, the first Chinese American to hold the post, said "hopefully'' Xi and Obama will move forward on some issues of common interest and common grounds, whether it's climate change, scientific cooperation and research, or people to people exchange, "which really is the basis for diplomacy.''
Xi's first stop in the US will be on Tuesday in Seattle. Locke served as governor of Washington state from 1997 to 2005, the first Chinese American governor of any state. Xi and a host of tech leaders from both nations are expected to attend the U.S-China Internet Industry Forum on Microsoft's campus in Redmond, Washington, on Wednesday.
Locke was US Commerce Secretary from 2009-2011 under Obama. He served as co-chair of China practice at the Seattle law firm of Davis Wright Tremaine from 2004-2009. Locke rejoined the firm in September on a part-time basis, serving as a consultant for both Chinese and us companies on cross-border trade and investment issues.
On access to China's market, Locke said there needs to be a "level playing field'' and fair treatment of US companies doing business in China, including protection of intellectual property and patents.
Locke said that despite significant differences and concerns with China on a variety of topics, overall the US-China relationship is much deeper and stronger than it was more than 40 years ago when President Richard Nixon first went to China, and more than 30 years ago when President Jimmy Carter re-established diplomatic relations with China.
"It's the most consequential bilateral relationship in the world today,'' Locke said. "And not just because we are so intertwined economically, and not because of the significant differences in issues of concern between our two countries, but because the world is looking for greater leadership and partnership by China and the United States together to address some of these tough world issues.''