$1.5b methanol facility to be built in Louisiana
Shangdong Yuhuang Chemical Company Ltd recently broke ground for a methanol plant in Louisiana.
The project by the company from Heze, Shandong province is being overseen by its US subsidiary Yuhuang Chemical Inc.
More than 100 people, including officials from Louisiana and the Chinese Consulate General in Houston, along with local community leaders and YCI business partners attended the Sept 18 ceremony.
Hailed by many as the largest green field foreign direct investment (FDI) project from China in the Gulf Coast region, the $1.5 billion plant will produce 1.8 million metric tons of methanol a year.
FDI has become an essential part of US economic growth, and China is the fastest-growing source of foreign investment in the US, accounting for a 35 percent growth rate, according to John McKiel, senior international investment specialist with the US Dept of Commerce.
"It's projected that China will need over 20 million tons of methanol per year after 2017, and it's very likely that we will import all the product to China. This will help improve the trade balance and reduce the trade friction between China and the US," said Wang Jinshu, chairman of Yuhuang.
Louisiana Lieutenant Governor Jay Dardenne called the project "a wonderful and exciting development for the state. The state is obviously participating by providing incentives through the development stage and construction stage.
"The scope of this project is massive," Dardenne said. "It will create 400 direct jobs with 200 for each phase; average salary is $85,000, and construction is estimated to create 2,300 jobs. Jobs, jobs, jobs for Louisiana," Dardenne exclaimed.
The YCI site is close to the famous Oak Alley Plantation and St. Joseph Plantation - both are sites for many movie shootings - along the Mississippi River. "This is probably the only place in America where you see the development of the magnificent project standing side by side with magnificent plantations that have been preserved for over 200 hundred years along the magnificent river," said Dardenne.
Li Qiangmin, Chinese consul general in Houston, called the Yuhuang groundbreaking ceremony "perfectly timed as President Xi Jinping will pay a state visit next week. This will usher in the process of building a new type of major country relationship into a new era. The project is a shining stone for US-China economic exchange," Li said.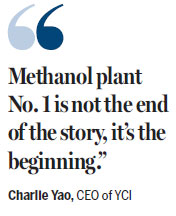 According to YCI CEO Charlie Yao, progress has been made in the past 18 months: YCI got an air permit in five months, took ownership of 1,300 acres of green field and completed basic design and FEED (front end engineering design).
In the construction phase, YCI's business partners include Air Liquide for detailed engineering and technology licenses; Worley Parson for providing 30 professional project managers overseeing the construction; and Amec Foster Wheeler as EPC (engineering, procurement and construction) contractor. Yuhuang also signed a 20-year pipeline contract with Williams for future gas transportation
"Looking forward, once the sugar cane field is cleared, the construction will begin in earnest within two months. Our objective is to deliver product beginning the first quarter of 2018," said Yao.
"Methanol plant No. 1 is not the end of the story, it's the beginning," Yao said. "Chairman Wang's vision is to build a major chemical complex here. We will have No. 2 and No. 3 plants to come. We will put many great projects in this wonderful parish and state."
Yuhuang Chairman Wang Jinshu is one of 15 Chinese entrepreneurs who will attend the China-US business roundtable discussion with Chinese President Xi Jinping during his visit to Seattle this week.
"We are the only private chemical company on the list, and I feel greatly honored to be selected to participate in this discussion with President Xi and other business people," Wang said.
mayzhou@chinadailyusa.com