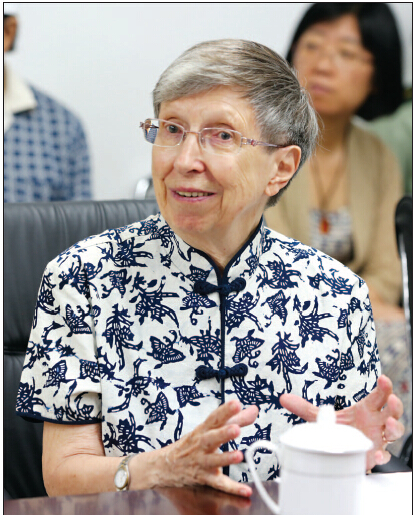 Betty Barr talks about life in a camp in Shanghai.
It is intriguingly how the foreign concessions in Shanghai were somewhat stuck in a time warp during the Japanese invasion of China in 1937. While buildings were decimated and bodies were strewn all over the streets after the Battle of Songhu in Shanghai, which ended in December 1937, life in these expatriate quarters was largely unaffected.
British Betty Barr and her family were visiting her grandmother in Dallas, Texas when they received news that their home in Shanghai had been destroyed by the Japanese. They nevertheless returned to Shanghai as her father John from Glasgow, Scotland, wanted to resume his teaching work at Medhurst College. The family soon found a new flat and Betty and her elder brother resumed their education.
Despite the war raging outside the borders of the international settlement they were in, Barr could still attend classic concerts. She recalled that Shanghai had a good symphony orchestra during those times. Barr had also managed to learn ballet.
But the fragile peace would soon be shattered several years later.
On December 8, 1941, a day after the Japanese Imperial Navy launched a surprise military strike on a US naval base at Pearl Harbor, the Americans declared war on the Japanese.
"I went to school on that day as I usually would. When I arrived, the teacher said, 'The war has started, go home,'" recalled Barr, who was born in the Country Hospital (now Huadong Hospital) in 1933 and was brought up in the Hongkou district (formerly known as Hongkew).
Expatriates in Shanghai first experienced trouble drawing their money out of the bank. Then, the supply of imported food was stemmed. On April 10, 1943, the Barr household was forced to enter the Civil Assembly Center in Longhua (formerly known as Lunghwa) , or the internment camp as the expats called it. Barr was tagged with the numbers 22/228, a reference to her being the 228th person in the 22nd group to enter the camp. The Longhua site was the biggest internment camp of all, holding 1,756 people, mostly British.
Barr's mother Ruth wrote in her diary that each person was only allowed to take four parcels of personal belongings into the camp. Because the Japanese did not stipulate just how big each package could be, Barr and her family had their beds wrapped up as giant parcels.
The family were assigned a northwest corner room in the G block in the camp and began their two-and-a-half years stay in the compound surrounded by barbed wired. Single people shared dormitories with little privacy.
The self-dubbed "Hongkou girl" said that for the adults, being separated from the other family members and the uncertainty of the future were the hardest things during this period of detainment.
"Nobody knew how long they would be there or what would happen at the end of the war," said Barr.
These detainees were allowed communication with the outside but even then things were strictly controlled — they could only occasionally write on Red Cross letter forms that had a maximum of 25 words.
"You were supposed to write only about personal news. You were not allowed to write anything bad about the Japanese," said Barr.
People were not allowed to possess a radio or take photos either. Deirdre Fee from Ireland, a painter who was a friend of Ruth Barr, resorted to drawing and painting.
Adults in these internment camps were assigned menial jobs which in the past had been done by their servants. Children were lucky enough to receive education in the camp, but they had to work in the summer. Barr's job was to look after the goats.
Food and water were brought into the camp by trucks. As the war went on, food and drinking water became scarce. There was not enough water for washing clothes. Many people became ill. Some died because of the lack of food, recalled Barr.
Some people managed to escape from the camp. Those who remained in the camp were punished in various ways, such as being given less food and more restrictions.
"We were not allowed to go out of the building in the very hot summer," said Barr.
The people in the Longhua camp depended on a solitary cow for milk. One day, Barr was asked to get a cup of milk for her sick brother. As she had not drunk milk for such a long time, she took a sip. But what she got was not a dose of much needed nutrition. It was guilt.
"Ever since then, I have felt very bad. I feel guilty because I took milk from my brother," said Barr.
Life for the Chinese outside these internment camps bore a stark difference. There was hardly a system in place to look after their welfare. Wang Zhengwen, Barr's 88-year-old husband and a Shanghai native, can testify to this.
"Their life was much better than ours," said Wang, who lost several members of his family during the war. Barr agreed. She recalled having received parcels from the Red Cross and her friends in the city who were not detained.