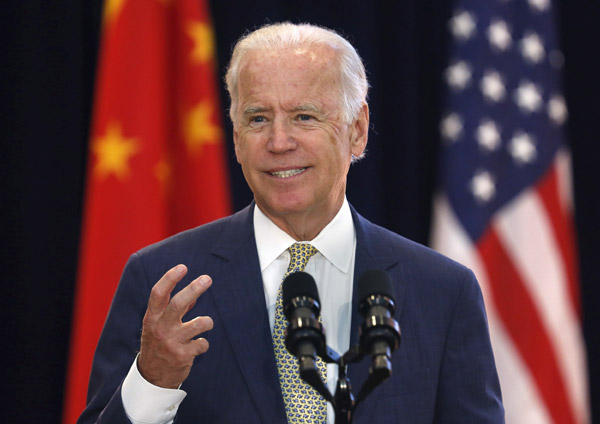 US Vice-President Joe Biden delivers remarks at the Strategic and Economic Dialogue (S&ED) at the State Department in Washington June 23, 2015. [Photo/Agencies]
Wang said that the core of China's actions in tackling climate change from an economic perspective is to "shift its growth model."
"Nature has shown human beings the red light - that the traditional growth model is coming to its limit, and we must change consumption, change a way of life that is too extravagant," he said.
"We must change our philosophy of 'pollution first and solution later,'" he added
Representatives of both countries said that there are plenty of business opportunities in combating climate change, with Kerry saying that the $6 trillion energy market now has 4 billion to 5 billion active consumers, and if government policy can excite the marketplace, it will move immediately and create millions of jobs in the solar, wind and hydro sectors.
"The economic opportunities are not to be trifled with," he said.
In China, the environmental industry's output has grown 50 percent year-on-year, generating more than $700 billion. More than 750,000 new energy vehicles were sold last year, three times more than in 2013, giving growth opportunities to such companies as electric-vehicle manufacturers Tesla and BYD, according to Wang.
"I believe tackling climate change is a must for efforts to promote global economic recovery and sustainable development," he said.
China will release its INDC - an outline of a country's post-2020 climate actions - this month, according to Xie Zhenhua, China's special representative for climate change affairs. Xie said in a press briefing after the climate-change discussion that China's INDC will differ from those of other countries because it will announce a series of objectives in addressing climate change to 2030.
"Not only will we have objectives in our INDC, we also will cover a lot of policy issues and projects to reach these objectives. I believe after China's announcement of INDC, you will see our INDC objectives are quite ambitious," he said.
Joanna Lewis, associate professor of science at Georgetown University who focuses on China's environment, said that there are signs that the central government's policy is leading to creative actions in the provinces.
"I'm just back from a trip to several provinces in China and was amazed at the real actions being taken at the local level,"she told China Daily.
Charlene Cai contributed to this story.
amyhe@chinadailyusa.com