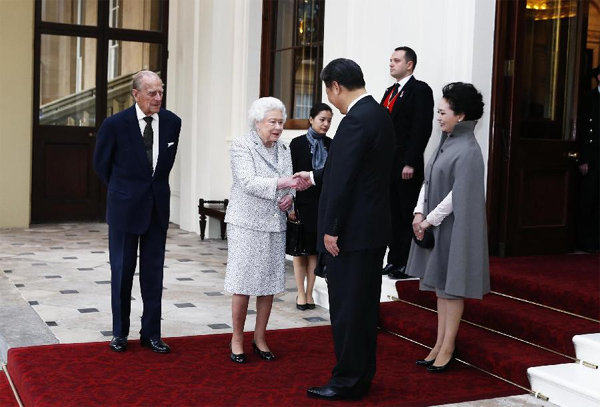 President Xi Jinping (3rd R) and his wife Peng Liyuan (1st R) bid farewell to British Queen Elizabeth II (2nd L) and her husband Prince Philip (1st L), Duke of Edinburgh, at Buckingham Palace in London, Oct 22, 2015. [Photo/Xinhua]
LONDON - Visiting President Xi Jinping and his wife Peng Liyuan bid farewell to Queen Elizabeth II and Duke of Edinburgh at Buckingham Palace on Thursday before their trip to Manchester.
Xi expressed his sincere appreciation for the hospitality and thoughtful arrangement made by the royal family, the government and the British people, saying the visit has given him a "deep and beautiful impression."
Xi arrived in London on Monday evening for a state visit to Britain, the first one by a Chinese president in a decade. He received the Queen's ceremonial welcome and rode in a gilded state carriage to Buckingham Palace on Tuesday.
China and Britain agreed to build a global comprehensive strategic partnership for the 21st century and usher in a golden era for bilateral ties featuring endurance, inclusiveness and win-win results, Xi told the royal couple.
"I am confident in the future of China-Britain relations," the Chinese president said.
The Queen lauded Xi's visit as very successful and fruitful, lifting the UK-China relations to a new high.
She wished the Chinese head of state a successful and smooth trip to Manchester.