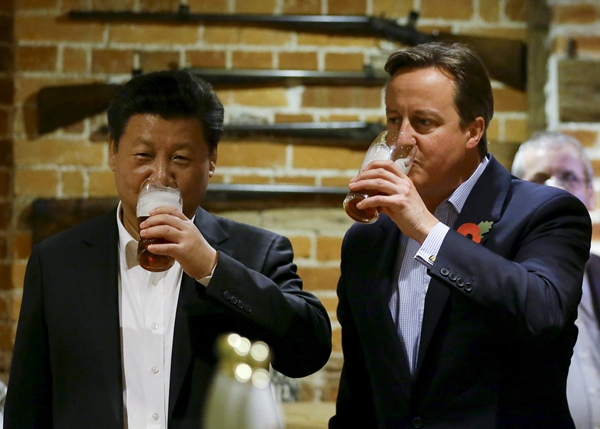 Britain's Prime Minister David Cameron (R) drinks a pint of beer with President Xi Jinping at a pub in Princess Risborough near Chequers, England, October 22, 2015. [Photo/Agencies]
Deborah Johnson, of Historic UK Ltd, said Xi and Cameron's visit to a pub would provide a further opportunity for typically British relaxation.
"The local pub is the hub of the local community in Britain, a place to meet, chat and relax with friends. Fish and chips is a national dish enjoyed by all, an integral part of the British culinary tradition," she said.
Erik Goldstein, a professor of international relations at Boston University in the United States, also spoke of the transition to informal surroundings.
"It has become part of the unofficial protocol of visits by leaders of major states to have a 'photo opportunity' at an informal location. In this instance it is more for British domestic consumption, and is a balance to the pageantry," he said.
Goldstein noted that the United States also seeks such opportunities inmeetingswith foreign leaders.
During his visit to the US last month, Xi and US President Barack Obama had a three-hour private dinner, investing more time in building personal ties.
In 2013, Obamamet in a "no necktie" summit with Xi at the Sunnylands estate in Rancho Mirage, California.
Last November, they had late night talks at Yingtai, Zhongnanhai, the Chinese central government's compound in Beijing.
"A state visit always has one "offsite"visit away from the capital, in both the US and the UK," Goldstein said.
After dinner at Chequers, Xi was to fly to Manchester for the final day of the state visit.
Contact thewriter at zhangchunyan@chinadaily.com.cn
Karen Kwok contributed to this story.