President promotes economic upgrade
Updated: 2014-08-23 07:51
By YAO JING (China Daily)
Comments
Print
Mail
Large
Medium
Small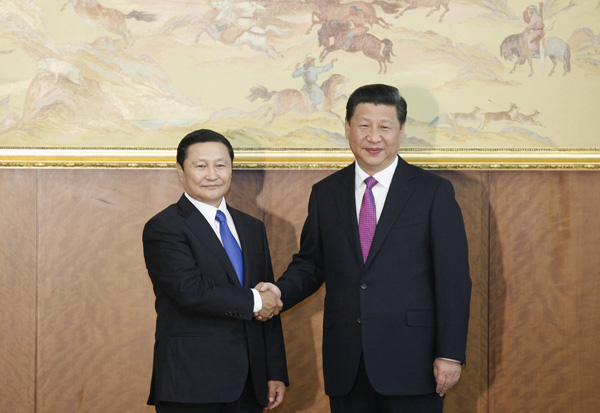 President Xi Jinping shakes hands with Mongolia's Prime Minister Norov Altankhuyag at the parliament building during Xi's visit to Ulan Bator on Friday. [Photo/Agencies] 
China and Mongolia will push economic ties forward by upgrading the structure of bilateral trade and encouraging more Chinese companies to invest in Mongolia.
"We will strive to make value-added products play a bigger role in trade," Xi said during his two-day state visit to Mongolia, which ends on Friday.
"The two countries are complimentary in industrial structure. China has been focusing on primary products, and Mongolia is rich in resources," said Mei Xinyu, a researcher at the Chinese Academy of International Trade and Economic Cooperation.
Mei said China's expansion in manufacturing in the past 10 years helped promote Mongolian exports to China.
However, the declining resource demand in the Chinese market, which is faced with excess capacity, together with Mongolia's expensive transportation routes, which now go through Russia, are challenging Mongolia.
Chinese Assistant Foreign Minister Liu Jianchao said earlier that the shipment of goods from Mongolia would be discussed during Xi's two-day trip to Ulan Bator.
China has been Mongolia's largest trading partner and a major investor for more than a decade. Bilateral trade volume totaled nearly $6 billion in 2013, almost 20 times that of 2002 and more than half of Mongolia's total foreign trade.
China imports coal, oil, minerals, livestock and other primary products from Mongolia, while China's electromechanical products, agricultural products, construction materials, and textiles are popular in Mongolia.
The countries pledged to double bilateral trade to $10 billion by 2020.
Moreover, China and Mongolia signed a memorandum of understanding on setting up an economic cooperation zone, and they promised to launch bilateral free trade talks as early as possible.
Japan and Mongolia reached a basic agreement on bilateral free trade in late July. The pact, which would first have to be ratified by both countries' parliaments before taking effect, would be Mongolia's first economic partnership agreement, Reuters reported.
More than 6,100 Chinese enterprises had registered in Mongolia by June last year, accounting for 48.8 percent of foreign enterprises registered in Mongolia, according to the Mongolian government.
China's investment in the country totaled $2.56 billion by the end of 2013, according to the Chinese government.
Chinese enterprises are pouring money into industries such as road construction, thermoelectricity stations and housing.
China's Gezhouba Corp has built roads in western Mongolia, and other Chinese companies have built houses for Mongolian people.
The Beijing Construction Engineering Group plans to build residential buildings in Ulan Bator on 210 hectares with the support of preferential loans from China.
Mei warned that Chinese companies that want to invest in Mongolia should consider the potential risks of the country's high inflation and frequent currency fluctuations.
"The infrastructure in the country is also poor. Big investment in infrastructure should come before large-scale economic development," Mei said.
Xinhua contributed to this story.