Work together to enhance practical cooperation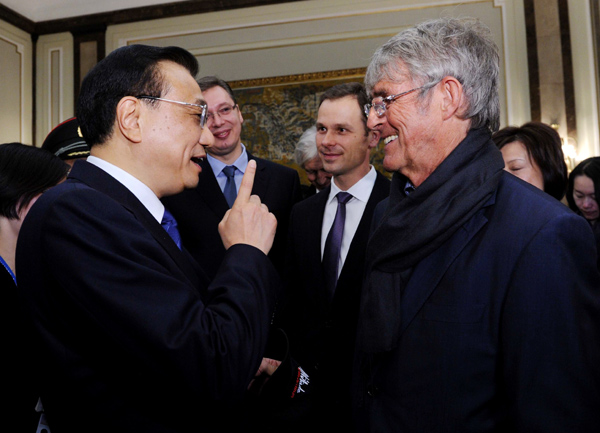 Premier Li Keqiang talks with Bora Milutinovic in Belgrade, Serbia, on Friday. Milutinovic, a Serb, guided the Chinese men's soccer team to World Cup contention in 2002 as coach.[Photo/Xinhua]
Editor's Note: The following is an excerpt from a speech by Premier Li Keqiang at the Fourth China and Central and Eastern European Countries Economic and Trade Forum in Belgrade, Serbia, on Tuesday.
It gives me great pleasure to come to the beautiful country of Serbia and attend the Fourth China and Central and Eastern European Countries Economic and Trade Forum. During this forum, the China-CEEC Business Council will be established, which will mark a new step forward in our cooperation. On behalf of the Chinese government, I wish to offer congratulations on the opening of the forum and establishment of the business council.
You may have felt that winter has not been easy for the Northern Hemisphere this year. In fact, many countries have experienced very cold weather, which seems to have echoed the current temperature of the world economy. The global economic recovery is sluggish; major economies in the world are showing divergent trends of growth; and many countries are facing downward pressures, with China and CEE countries being no exception.
Questions still exist as to whether there is the possibility of a prolonged contraction of global demand and whether the tendency of deflation in some countries will get worse. We need to get ourselves ready for all sorts of possibilities, as this hinges on the stable growth of the world economy, the sustained improvement of people's well-being and, more important, the peace and stability of countries, regions and the wider world.
I choose to believe that as long as countries leverage their own strengths and potential to the full, the world economy will not end up in a meltdown or nosedive. Instead, it will emerge from difficulties and continue to move forward.
In this context, while advancing economic globalization, we need to vigorously promote regional cooperation, like the cooperation between China and CEE countries. Such cooperation is highly complementary, reflects our converging interests and boasts huge development potential.
Development gaps exist between the north and the south, and between the east and the west of Europe and China, too. The per capita GDP of CEE countries is only 40 percent of the average European level, and the level of development in China's western regions falls far behind the national average. Nonetheless, where there is a gap, there is potential.
CEE countries have broad development prospects, and a huge demand in the development of infrastructure and the manufacturing sector. China, for its part, enjoys sufficient production capacity and abundant foreign exchange reserves.
We, in China, are working hard to upgrade the economy and turn the country from the world's workshop of consumer goods to a major base that provides manufacturing equipment to the rest of the world and a market that absorbs quality products from the rest of the world. Deeper China-CEEC cooperation will help us tap potential and narrow development gaps.
Resolute decision
I wish to emphasize that our cooperation is good for not only our countries but Europe as a whole. During the worst time of the European debt crisis, China made the resolute decision to support Europe. China has been a long-term and responsible buyer of European debt, which helps Europe's endeavors toward balanced development.
Likewise, China's excessive, yet advanced, production capacity in equipment manufacturing, which could well be aligned with the CEE countries' need for infrastructure development, will also result in more balanced development in Europe.
China has all along supported the European integration process, and hopes to see a united, prosperous and stable EU and a strong euro. China-CEEC cooperation will contribute to win-win cooperation between China and the EU and bring about an ever closer China-EU relationship.
For EU members, cooperation will be conducted within the EU framework, and for non-EU member CEE countries, such cooperation will contribute to the process of European integration.
This being said, to tap potential and promote economic growth requires a peaceful and stable political environment. Hot spot issues and threats to regional stability will undoubtedly affect commerce, trade and the flow of capital.
Should entrepreneurs like you dare not to invest, and should the market lose confidence, sustainable economic growth will be out of the question. China, being firm in its commitment to a path of peaceful development, will work with European countries to jointly safeguard peace and stability at the regional and global levels and endeavor to create an enabling environment to facilitate economic growth.
China-CEEC cooperation in trade, investment and infrastructure has grown rapidly in recent years. More than 80 percent of the initiatives contained in the Bucharest Guidelines for Cooperation issued at the leaders' meeting last year have been implemented. Two-way trade is expected to exceed $60 billion this year, up by 10 percent, a rate that is much faster than the growth of global trade. This would not have been possible without the hard work of businesses from all the countries represented here.
Great potential
The China-CEEC leaders' meeting to be held later this afternoon will issue the Belgrade Guidelines for Cooperation to map out the blueprint for future cooperation. I hope business leaders here will seize the opportunity and join hands to take China-CEEC cooperation to an even higher level.
First, infrastructure development holds great potential. Convenient transportation is the foundation for economic development. Building infrastructure in the region needs government support and, more important, business input. A number of CEE countries boast good ports, including the port of Constanta in Romania and the port of Koper in Slovenia. If connected with trunk railways and highways, a network will be created that would significantly shorten transport distances between China and Europe. The initiative of the China-Europe land-sea express line is designed to facilitate land and maritime connectivity and logistics, and will put in place a new, convenient and multifunctional transport corridor with heavy-load capacity. Businesses from all our countries may be involved in its development. We welcome Serbia to lead the establishment of a China-CEEC association of transportation infrastructure cooperation to provide quality services to the businesses of our countries.
Second, much could be done in industrial development with focus given to manufacturing equipment. Chinese companies have the experience and mature technology in infrastructure development, as well as quality and cost-effective equipment for railways, power plants and ports. All these are highly competitive in the international market and cater to the needs of CEE countries. Marrying China's equipment-manufacturing capacity with CEE countries' demand for investment and development will be truly win-win, as it will contribute to the economic growth in CEE countries and will fully leverage China's capacity in equipment manufacturing. The Chinese government is ready to work with the governments of the other countries to build cooperation platforms for businesses, and provide easier access to information as well as visa and residence facilitation. This will help create a more fair, transparent and stable investment environment.
Third, to build a new investment and financing framework will go a long way toward serving the growth of the real economy. Businesses on both sides have many good cooperation projects, the implementation of which is hampered, though, by the question of financing. To deepen investment and financing cooperation, the Chinese government proposes to set up a China-CEEC coordinated investment and financing cooperation framework. It would be a good idea for CEE countries to make full use of the remaining $7 billion of the $10 billion special credit line and the concessional buyer's credit. More preferential loan terms will be provided as necessary to lower the cost of financing. To support investment projects in CEE countries, China will launch a $1 billion China-CEEC Investment Cooperation Fund (stage two), and establish a $3 billion investment fund to help promote equity financing in this region through multiple channels. We are willing to encourage Chinese companies to take an active part in the privatization and marketization of CEE companies and will support cooperation based on the PPP model between our businesses. I hope that businesses from our countries will blaze new trails to make good use of both government incentives and commercial funds to achieve real and early results in our business and investment cooperation.
Fourth, there is huge potential to tap into two-way trade. Doubling two-way trade in the coming five years is a target I put forward at the Bucharest forum last year. Over the past year, businesses in our countries have achieved much and seen notable results. In the first 10 months of this year, Montenegro saw its exports to China double. Central and Eastern Europe boasts many competitive and unique products, such as the machine tools of the Czech Republic and the wine of Romania, which are highly popular with Chinese customers. I believe it is important that you feel the right pulse of the Chinese market and cater to its consumer needs. The Chinese government will work with the governments of CEE countries to facilitate customs clearance and exchange of personnel to create favorable conditions for our businesses to increase the trade volume and improve the trade mix. The second China-CEEC investment and trade fair will be held in Ningbo, China, next June. We welcome your active participation in the event and look forward to a boost in trade both in goods and in services, such as tourism.
Fifth, it is important to build closer people-to-people ties. People-to-people exchanges and business cooperation are mutually reinforcing. Business activities, including production, operation and investment, require human capital and the support of education, especially professionals with global vision. I wish to announce here that starting from next year, the Chinese government will support twice as many students from CEE countries to study in China. The Chinese economy this year has maintained overall stability, moved forward and performed better. ... Its GDP growth is quite high among major economies. Employment and prices are both stable. More important, significant progress has been made in the readjustment of the economic structure. We will drive growth through reform, innovation and structural readjustment and unleash potential through improving people's lives so as to maintain medium- to high-speed growth and bring our development to the medium to high end of the spectrum.
We will deepen reform comprehensively and press ahead with a new round of opening-up. I trust that the sustained growth of the Chinese economy and China's reform and opening-up will bring significant opportunities to CEE countries and beyond.
From Budapest to Warsaw, from Bucharest to Belgrade, China-CEEC cooperation has entered a sound track of fast growth, beaming with vibrancy and enjoying bright prospects of further growth. I look to you, businesses from both sides, to seize the opportunity and increase mutual investment. I am convinced that with our joint efforts, China-CEEC cooperation will move to a higher level and produce even more fruitful results.